How To Leverage YouTube Videos To Skyrocket Your Blog's Traffic
Shaun Poore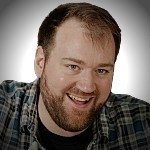 When I first started making videos for YouTube, I was terrible at it.
I was filming on an iPhone 6s with a failing battery.
I didn't understand how to edit my videos.
I didn't understand lighting, audio, or really anything about making a video.
Despite my videos being garbage, I began making them anyway. I'd film a piece on the same subject as one of my blog posts and embed the YouTube video in the post. Weirdly, I got a traffic boost from it almost instantly.
But why? How? And can you replicate my success? Let's go down the YouTube rabbit hole.
Why Did My Embedded YouTube Videos Get Me More Traffic to My Blog?
Embedding a video in your blog post will likely increase your SERP rankings (although it's hard to prove how much). But, this post is not about that. This post is about how to win the top spot in Google Video Search and why it matters.
I forget about Google Video Search because I rarely use it, but it's there. And when you embed a video on your blog, and somebody clicks on that video from the SERP, it takes you directly to your website rather than directly to YouTube. It's an instant source of new traffic.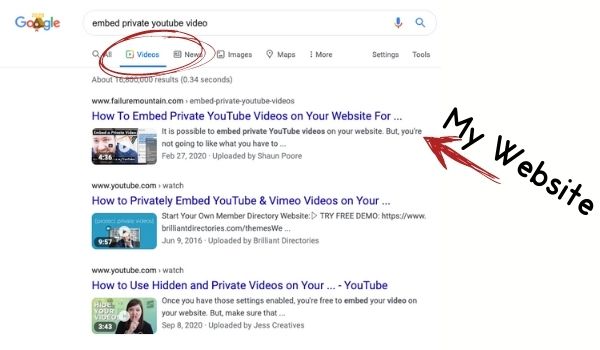 The best news? There's sometimes zero competition in the Google Video SERP right now. Even if the subject of your blog post has 10+ competing entries.
Meaning all you need to do to win the top spot is to exist and have a clickable thumbnail. Your video making skills and your YouTube channel can be complete and total garbage. As long as your video is embedded on your blog and has a clickable thumbnail, it'll bring in blog traffic.
But, how much more exactly?
How Much Traffic Can Your Blog Get From Google Video Search?
You have to start embedding videos on your blog to see just how much traffic this is bringing in for you. But, once you do that, the data will start showing up in Google Search Console. Just switch the search type from "Web" to "Video."
Here's the data in my search console for the first three weeks after embedding a crappy video about using GMail with a custom domain on my site.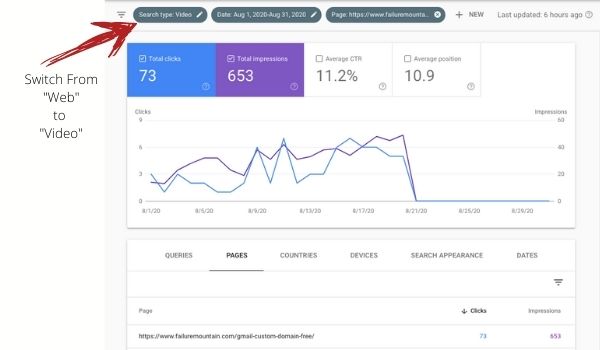 73 extra clicks may not seem like a lot. But, keep in mind a few things before you rush to judgement.
This was in the first 3 weeks after making the video.
This was only the 2nd video I ever made. And it was not a high-quality video.
It had an 11% click-through-rate despite ranking 10th in video search.
The blog post itself was getting close to 0 traffic as it ranked 30th in the SERP at the time.
The YouTube video went on to get thousands of views on YouTube.
A few people were clicking through to my blog using the link in the description.
Despite not being good at making videos, and this video not ranking very high, the video brought in maybe 1,000 views per month to my YouTube channel and 100 views per month to my blog.
That's not half bad if that was the only thing that happened.
Embedding a YouTube Video Increases Your Blog Posts SERP Ranking
In July, prior to me embedding that video in the blog post, that post ranked 29th on average. And the post was already a year old, so it's not like it still needed a bunch more time to age. This was likely where this post was going to end up.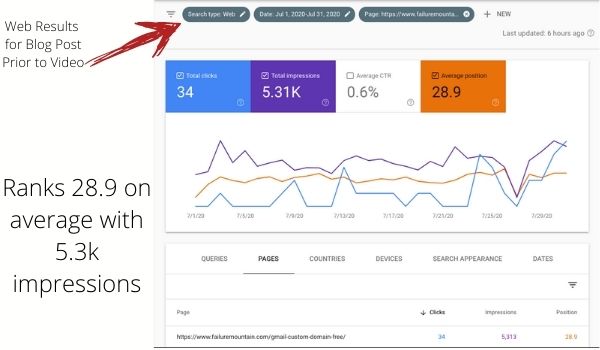 In August, the month after I embedded that video, here were the new results.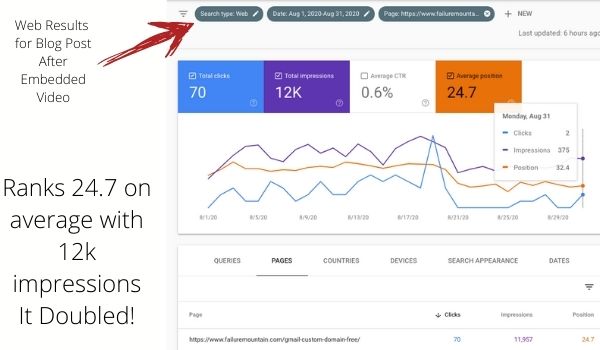 My impressions and clicks doubled! Granted, this post still ranked very low, but moving from 29th to 24th in the SERP over 1 month isn't bad. If I could instantly move up 5 spots for every post I embedded a crappy video on, I'd be a happy camper.
It's hard to guarantee how many spots you will or won't move up in the rankings by adding a video. But the first 5 posts I added a video to went like this.
Clicks and impressions went up on all the posts, sometimes significantly. Since Google's a black box, it's hard to definitively prove that the videos were the sole cause. That said, I put 5 videos on 5 posts, and the clicks and impressions went up on every one of them. Sometimes significantly.
And 5 videos got me about 80 clicks per month to my blog through video search traffic as well. Not life-changing, but that's in addition to their YouTube traffic and increase in my blog posts normal rankings.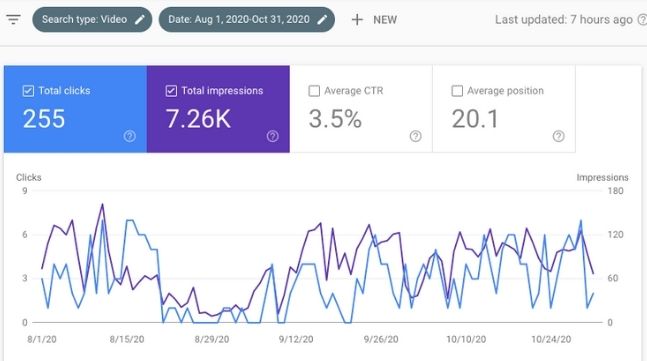 The point is that embedding videos on your blog posts will help you get traffic to those posts. Even if your videos aren't particularly good or getting a lot of YouTube traffic.
Overall, I consider this experiment a huge success. Crappy videos got decent YouTube traffic, increased my blog's rankings, and got me some video search traffic. What's not to love?
Oh, and a few months later the blog traffic coming in from my YouTube videos has nearly 10x'd to over 700 clicks a month.