How Long it Takes to Get 100k Clicks a Month from Google
Shaun Poore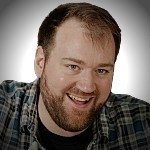 I started writing this post in mid-2019 when this blog launched to track my progress to 100k clicks. The goal was to give a month-by-month breakdown of everything I did until I hit 100k.
Well… It took me much longer to hit 100k clicks than I anticipated and the post got long. I've since adjusted the post to give a big picture breakdown every 6 months of my journey. I hope this gives you some idea of what to expect as you begin your blogging journey. Enjoy!
The First 6 Months (December 2019)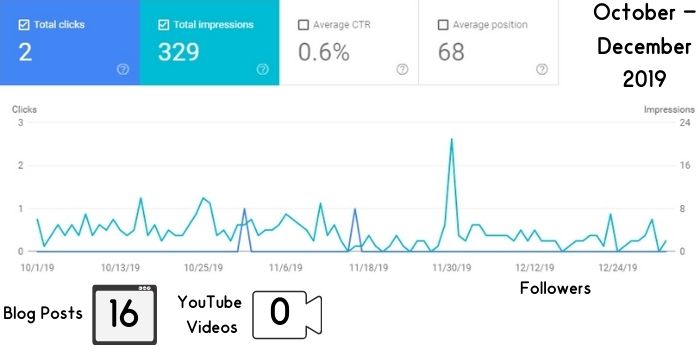 The first six months of my journey I only wrote 16 posts!
Looking back, it's shocking how unsuccessful I was out of the gate. How did I not write more posts than this in six months? I think I had some common problems these first 6 months that I struggled to overcome.
It was much harder to start a writing habit than I anticipated.
I was obsessing over how to construct my posts (Grammar, formatting, etc.).
Researching how to do everything (pick topics, construct posts, market posts) paralyzed me.
I coded my own theme. Long-term I like it but short-term it was a disaster.
My full-time job was (and continued to be) a constant struggle because my career is dog-shit.
If you're experiencing these problems your first six months, hopefully you'll be encouraged to learn that I have better months in the future. And with 2 lousy clicks in my first 6 months, how could you do any worse?
The First Year (June 2020)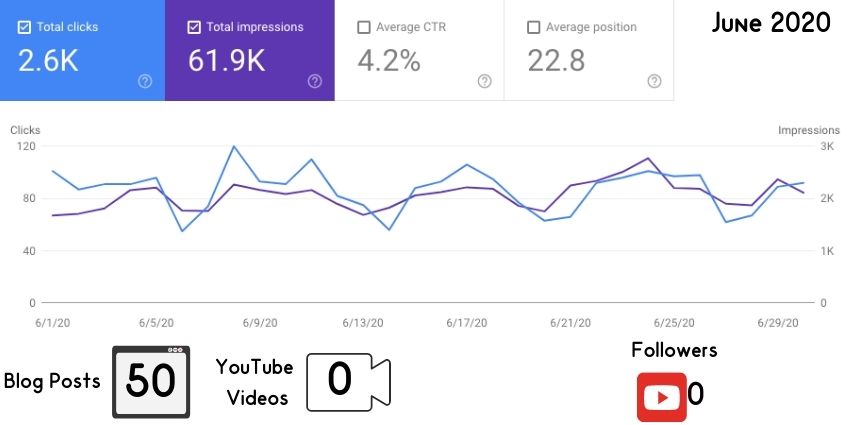 I think three major things happened in this six month period.
I finally got out of my own head and started writing articles at an OK pace.
I got out of the Google sandbox! (2.6K clicks a month!)
A global pandemic came out of nowhere and screwed up all of my life plans. So yeah.
I also started taking site speed really seriously around this time. I coded my own theme and coded it to be super fast. In addition to that I moved my website over to the Google Cloud Platform and equipped it with a load balancer to deal with latency. It was dramatic overkill for a blog getting this little traffic, but I didn't want speed to be the reason I was failing. Particularly when I'm a software engineer by trade and could easily fix that.
I also want to say how invigorating it felt to finally see real people visiting my website. I think if I was still seeing 2 clicks a month at this time I might have given up and walked away.
A Year and a Half! (December 2020)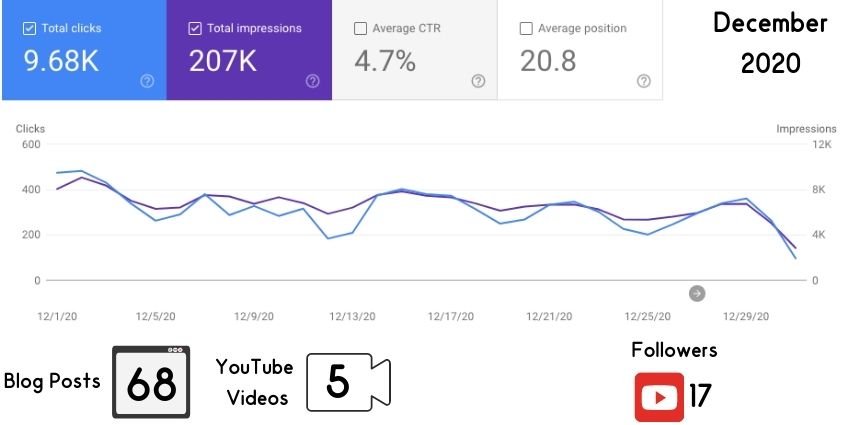 Over the next 6 months my traffic 5x'd which felt incredibly encouraging. I also started a YouTube channel! And that was hard for me because it really felt like putting myself out there.
However, things weren't all roses. My pace of blogging dropped back down to next to nothing these six months. My job decided it'd be fun if I worked an onsite project at the height of the global pandemic (at the time) when there was no vaccine. It was quite stressful doing that every day and then attempting to blog. So I slowed down.
December is also memorable because I changed the domain name of the site from FailureMountain.com to ShaunPoore.com. I decided I wanted to create a personal brand that would match my YouTube channel in the closing days of 2020. New Year new me!
Two Full Years (June 2021)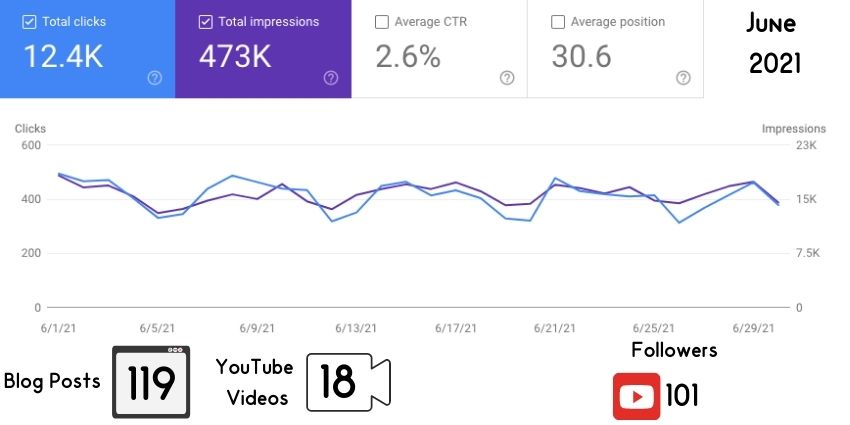 I entered 2021 with a renewed vigor. Enraged at my job for how they treated me during the pandemic, I tripled down on content-creation!
I created more content in a six month period than ever before. But, the results did not follow. I only saw a 30% increase in clicks despite nearly doubling my content over six months.
This felt defeating! My goal was 100k clicks a month from Google in 3 years. I was still 10x away.
And 10x felt really far given that I'd just thrown everything I had at this problem. I created more content in six months than I thought I could. I even added website improvements during this period (added JSON-LD schema, dark mode, passed Core Web Vitals, etc.). Nothing was working.
That said, I kept going…
Two and a Half YEARS (December 2021)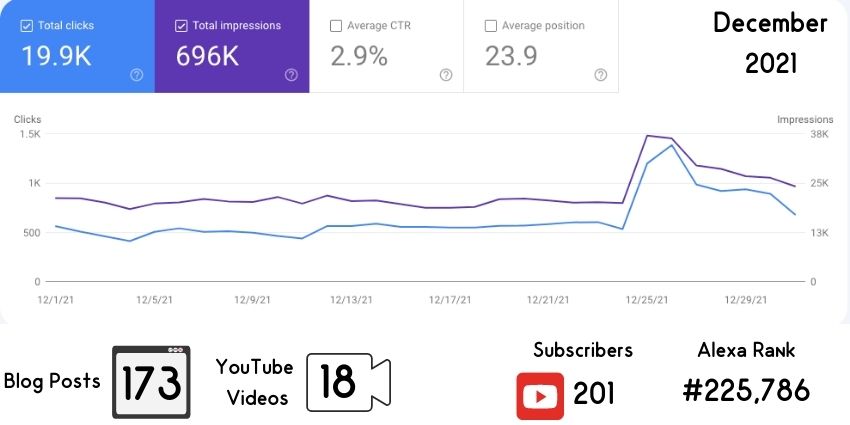 My traffic remained completely flat over almost the entirety of the next 6 months despite me continuing to grind out a lot of blog posts. That is, until Christmas day 2021 when I got a pretty large spike in traffic.
I hope this spike didn't have anything to do with me changing the domain name almost exactly a year ago and Google considering my website old enough now. That said, only time will tell if this was a minor spike or the start of my blog's ascension into relevancy.
Either way, I'd already decided to cut back on blogging in 2022. 5 posts a month is the new target (as opposed to two a week in 2021).
I made this decision because I actually am seeing success with my YouTube videos that I created (and I'm getting better at making them). Plus, my audience is getting big enough that if I had a compelling digital product I likely don't even need 100k clicks a month to earn a decent monthly revenue.
Three Years! (June 2022)
I want to say in advance how shockingly fast the time went by. I think the global pandemic (which has hopefully settled down by now) has altered my perception of time.
I feel like I'm going to fall dramatically short of my 100k-click goal in 3 years. That said, I do have some tricks up my sleeve that I think will help me out the next several months.
Continue to publish 5 posts a month.
Experimenting with Ads to incentivize Google to notice my new posts.
Take YouTube more seriously.
Experiment with Google Web Stories.
A website refresh (add a custom home page that isn't just a blogroll, careers page, etc.).
A Screaming Frog SEO Audit in case technical site issues are what's holding the site back.
Adding comments back (In case Google uses them to measure engagement, my traffic flatlined after removing them).
Adding my email signup back (In case Google uses that to measure engagement).
Creating a product (to wildly increase revenue).
I'd also like to say that if I do fall short of my 100k-click goal over 3 years… I still consider this website to be a modest success (despite how frustrated I've felt this entire time).
The website makes hundreds a month despite me doing almost nothing to monetize it. And I not only expect it to grow dramatically over the next 3 years, I expect to increase how much money I make per visitor 10-fold over that time.
What I'm saying is this thing basically is a free car payment right now. And I could see it easily 10x-ing that over the next few years if I keep working it.