How Long it Takes to Get 100k Clicks a Month from Google
Shaun Poore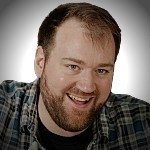 When I started blogging, all I wanted to know was when my awesome content would start getting traffic. The Internet will tell you "6 months", but I wanted to create an actual case study that showed exactly what it took. So I created this post.
I'll be tracking my results over the first 3 years of this website's existence (until July 2022). I'll include exactly what I've built each month in a competitive YMYL niche so that you can follow along. My goal is to be over 100,000 clicks per month from Google by the time the three years are up (because I think I can replace a six-figure income with that much traffic).
Let's do this!!!
Month 7: January 2020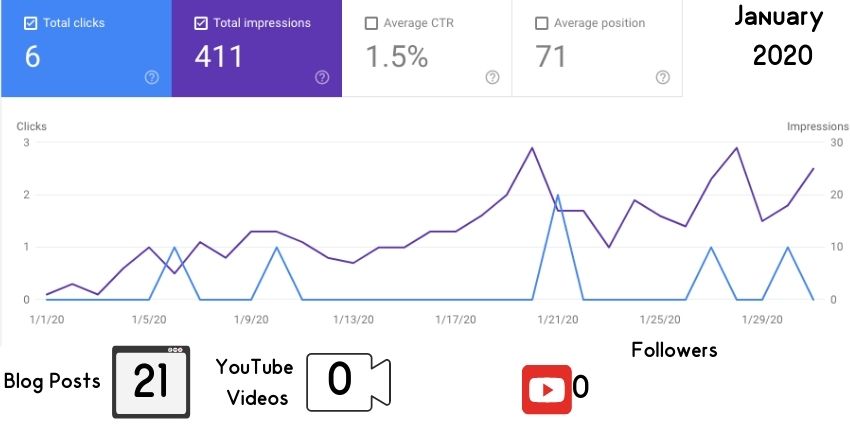 Wait, why am I starting this case study in month 7?
The first 6 months of this blog were very uneventful and it was much harder to establish a writing habit than I anticipated. It took me ages to convince myself to start a blog and then when I finally did, I only wrote these 16 posts in the first six months.
Not that I'm unhappy with these posts, several of them did quite well in Google in distant future months. But, that's less than a post a week. Things really started heating up when I doubled down on blogging faster in early 2020.
Month 8: February 2020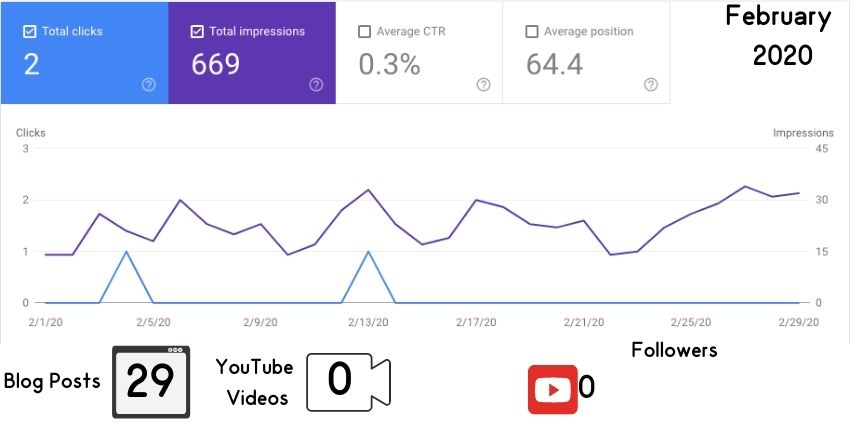 I was feeling pretty discouraged in February. I felt like I'd been working very hard but I still had fewer than 30 posts and was seeing zero signs that Google was going to send any traffic. However, the 8 posts I published was one of the best months I'd have creating content for quite some time.
Month 9: March 2020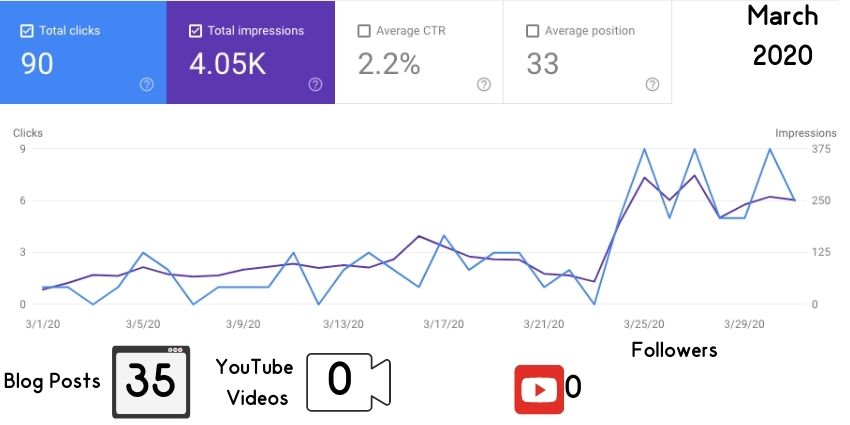 90 clicks!! Holy Cow! In a few years I'll see this as a tiny number of clicks, but in the moment I'm beyond excited. I felt like I'd just done something very special.
Although March 2020 was a bit of an odd time if you can remember back that far. Coronavirus came in and randomly locked down human civilization overnight… Bummer. That said, I initially responded very positively to the pandemic and used it as an excuse to work harder on this blog.
March was also notable because I switched my hosting from Bluehost to the Google Cloud Platform. I also built my own WordPress theme during the previous 9 months. And while I wouldn't recommend doing that, my Google PageSpeed scores are perfect starting around month 10 of this blog.
Month 10: April 2020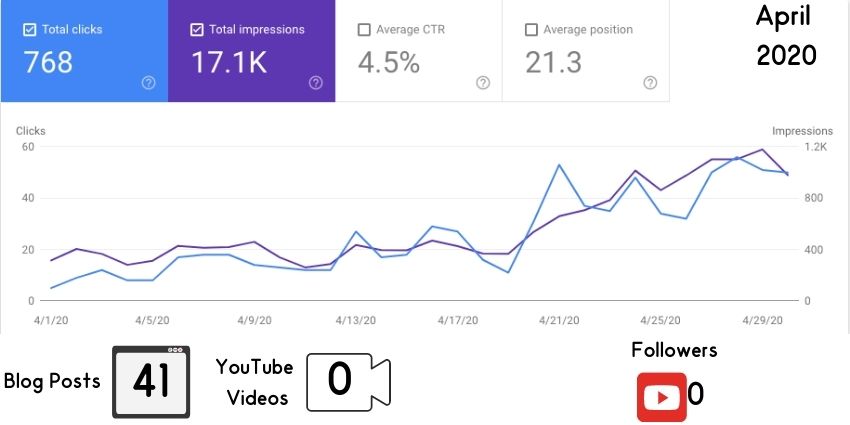 768 clicks in one month! Seeing the traffic nearly 10x over last month has felt incredibly energizing to me. It's hard to keep writing when nobody is showing up. Goodbye ghost-town!
If there's a downside to this rise in traffic it's that 95% of it is coming from my one post on how to embed a private YouTube video. I'd like to see my other posts rise the ranks as well. Towards the end of April, the first post I ever wrote started to get a tiny bit of Google traffic as well. So perhaps more posts will begin growing soon.
In April I pumped out another 6 blog posts.
Month 11: May 2020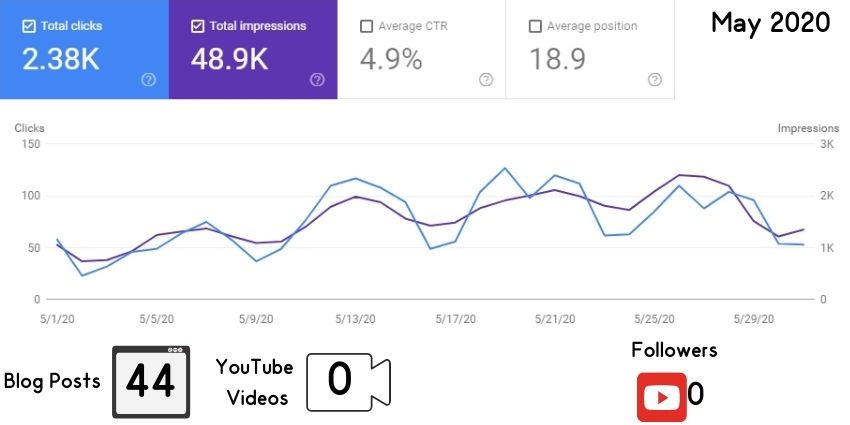 2,380 visitors in a month is well short of my 100k visitor goal. But, it's 309% growth over last month. That growth can't keep up for very long without me getting there.
Only 3 blog posts this month.
I felt a bit burnt out with writing this month. I decided to spend some time on other important tasks. I set up my website with a load balancer on GCP so that my site is super fast in Japan as well as the US. I also completely revamped my contact page to look awesome (and function properly)!
Month 12: June 2020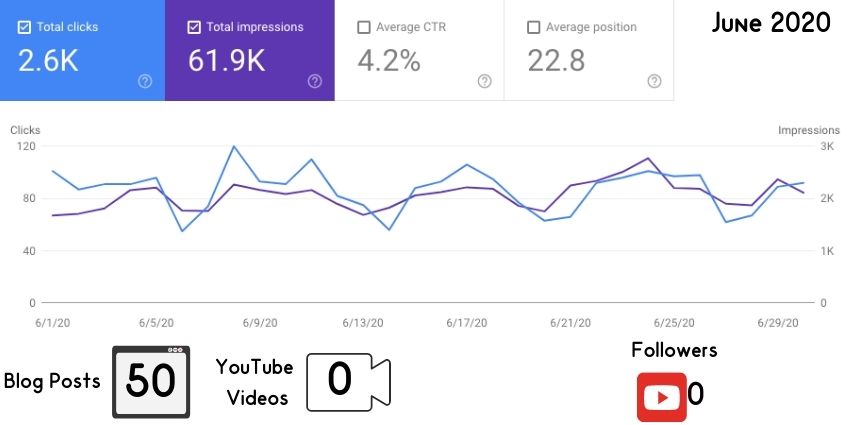 It feels insane that I've been doing this for an entire year. The first 7 months may have started out slow, but I've really picked it up the past few months. I nearly reached my initial goal of a blog post a week when all was said and done. Plus, I coded this entire theme and set up the fastest hosting possible all while struggling with a full-time job. Not bad.
I had a very productive month this month. I completely revamped my author page to look awesome. On top of that, I wrote 6 massive blog posts.
Month 13: July 2020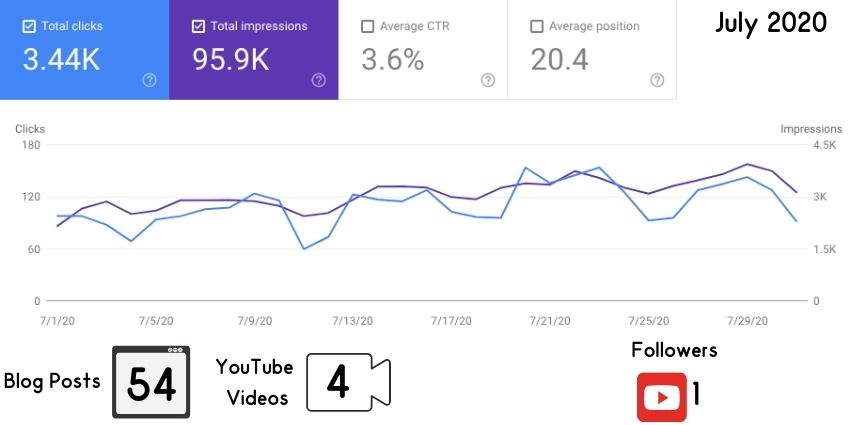 I have a YouTube channel! Overcoming the fear of putting myself out there on video was hard to do. But, I'm doing it in year 2!
The hope is that one day the YouTube channel stands on its own. But for now, most of the videos I'm making are meant to be a complement to my blog posts. We'll see if it has a positive effect on my traffic and website authority.
And I wrote four more blog posts this month.
Month 14: August 2020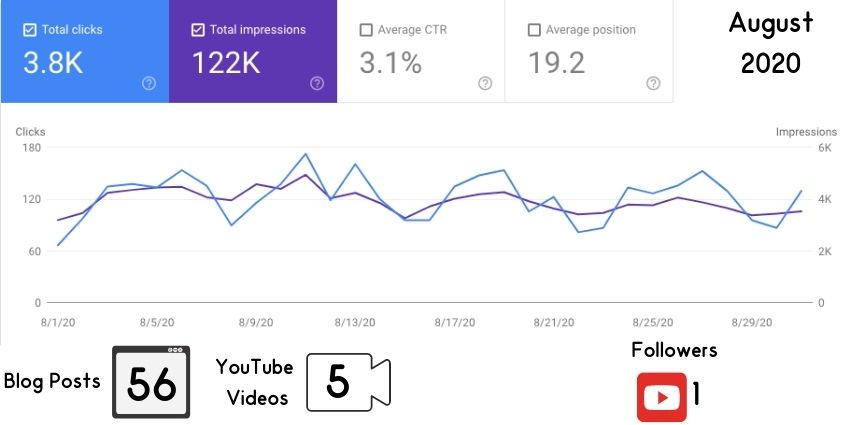 Another big boost to impressions but not clicks. I have a lot of posts that are climbing the ranks but just not on page 1 just yet. It's very frustrating.
Also frustrating is that I only wrote a couple new blog posts. I hit a major life roadblock in August of 2020. My job decided it'd be a good idea if they send me into work among a ton of people during the peak of Coronavirus. On a project that is a complete disaster (because no decent software engineers will go into work during the peak of coronavirus in the US).
The next several months of my blog are not pretty. But, I think it's good to note that blogging isn't always going to be rainbows and unicorns.
Month 15: September 2020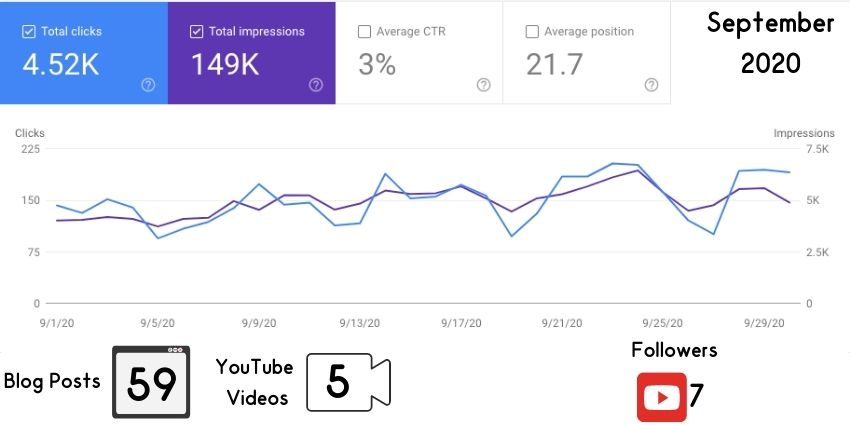 Traffic is rising. Didn't get a ton of content written however.
Month 16: October 2020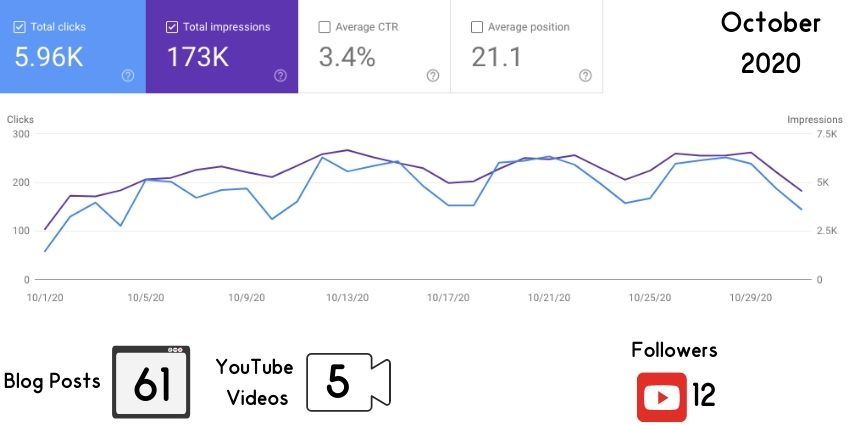 Again, my job's the worst. Traffic's rising but the amount of content I've been able to produce through this madness is minimal.
Month 17: November 2020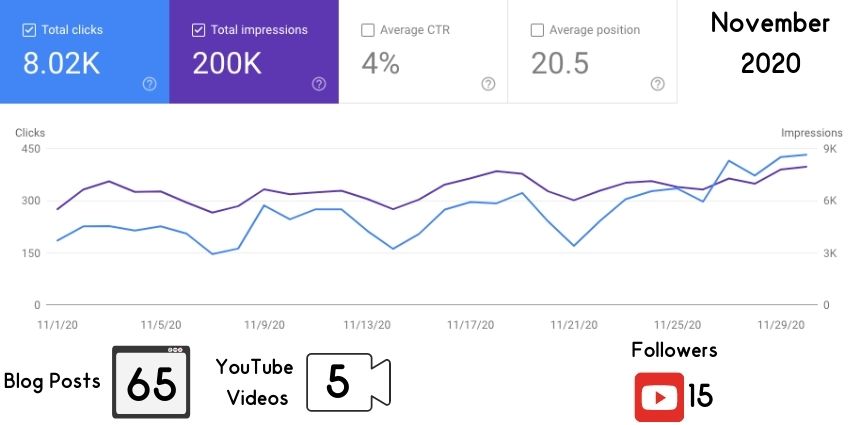 Given how awful my work-life is, I'm actually happy with getting 4 pieces of content out in a month. I actually really like all of these posts too.
Month 18: December 2020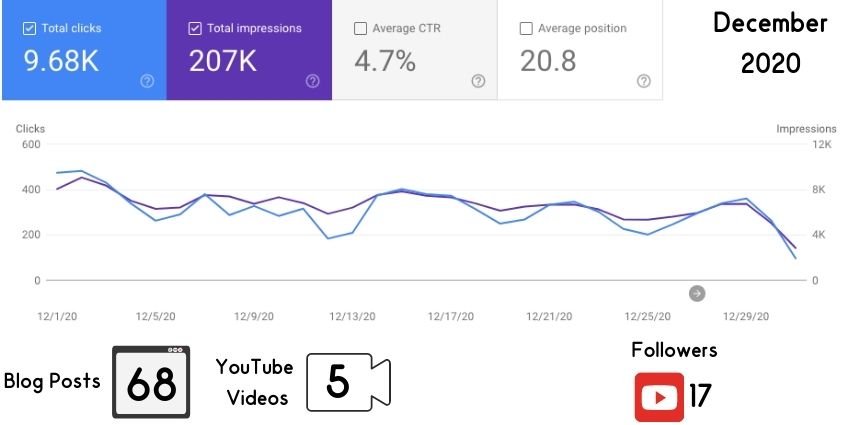 Another slow-ish month with only 3 posts. Thanks crappy job / pandemic.
That said, this was my last crappy month at work. I finally got off this horrible project, so 2021 is looking up with the amount of content I'll be able to produce.
Plus, this was a big month as I switched my domain name from failuremountain.com to shaunpoore.com. This is definitely hurt my traffic numbers in the short-term (but they come back). I made the switch because I feel very proud of the work I'm creating. Plus, I think a personal brand is the clear way forward when combining the blog with a YouTube channel that features me.
I also decided to stop tracking Twitter and Facebook likes. I've decided I'm not interested in social media traffic on this blog. It's just not part of my business model right now.
Month 19: January 2021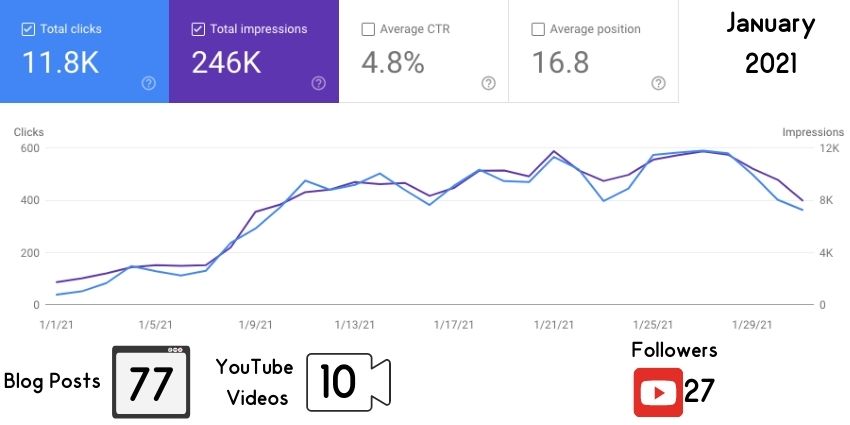 You can definitely see how low my traffic got in the weeks following the domain switch. Luckily, it recovered and then some towards the end of the month.
New year, new me! In 2020, I averaged a weekly blog post. While that's a big improvement from year 1, it's still not fast enough. This year I'm literally tripling down. The goal is two blog posts and one YouTube video per week.
I don't know if I can keep up that content pace for an entire year, but at least in month 1 I successfully hit the mark.
And the five YouTube Videos. Which I'm reasonably happy with but I really need to improve the quality with them in future months.
Month 20: February 2021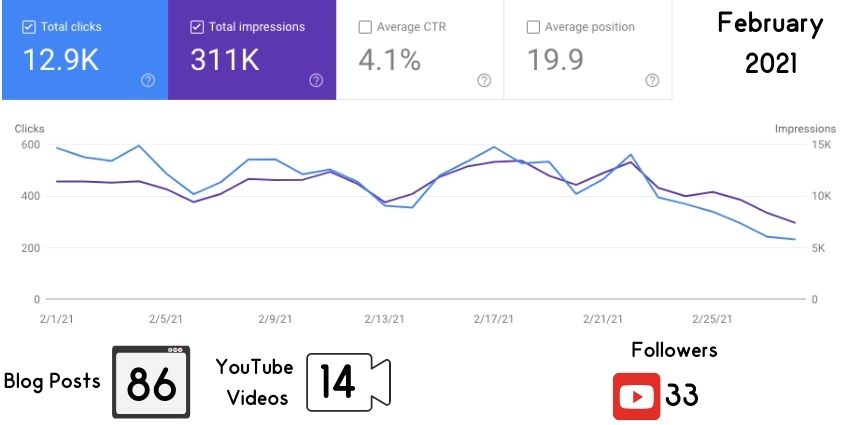 Publishing 14 pieces of content in a 28 day month feels like a major accomplishment. My traffic is still increasing (much slower than I'd like). With the influx of posts I'm hoping to see major growth in the coming months.
This month I also made some major theme changes. I stopped using custom fonts due to load time and CLS issues they caused in Google's Core Web Vitals. I switched the default theme to dark mode, removed comments, and removed all social media references. I'm no longer tracking Pinterest followers with these updates as I officially don't use it anymore. Here are this months posts.
And the YouTube videos. The quality is increasing in the videos but I've still got a long ways to go before I'm great at it.
Month 21: March 2021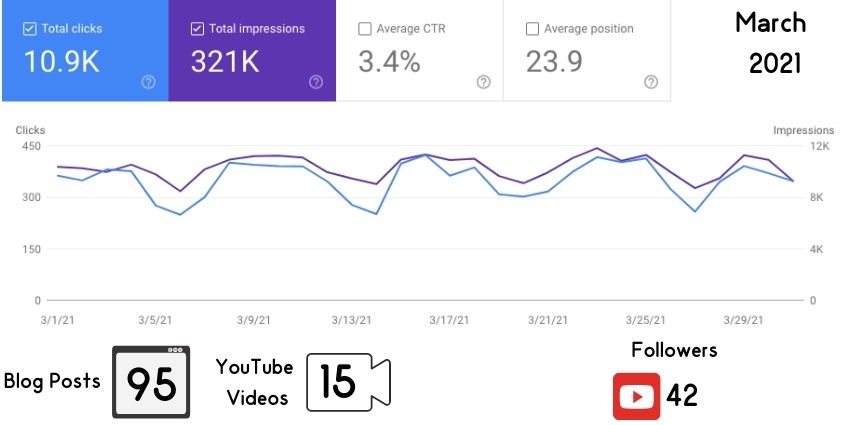 It's hard to describe how discouraging it feels to churn out 27 blog posts and 10 YouTube videos in three months only to watch your traffic DECREASE! This is unfortunately how blogging goes though. Right now, I'm paying the price for the amount of content I wrote in August through December.
I missed my target with YouTube videos this month. But, I learned a ton of cool stuff learning to make 360 videos. So worth it.
Month 22: April 2021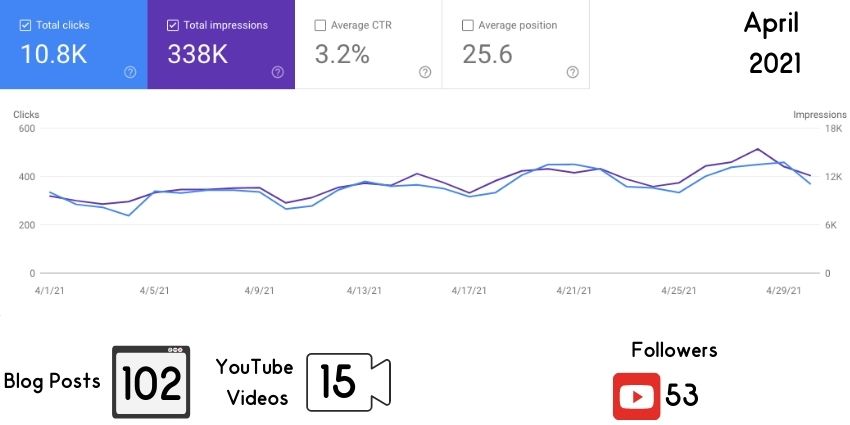 Boom! Finally over 100 posts in month 22. I averaged about a post a week over the first two years which I'm reasonably happy with, although I hope to double that over the next two years.
April took me down the Core Web Vitals rabbithole. My theme had cumulative layout shift issues and I spent tons of time fixing it. After all that effort, of course Google delayed its Core Web Vitals rollout. They won't start until mid-June now, nice.
I also spent a huge amount of time adding JSON-LD schema to all of my blog posts. I'm hoping that providing Google with the proper image formats will allow me to rank in Google Discover. The other hope is that providing transcripts for my YouTube videos may help those video posts rank.
Time will tell if those changes actually improve my traffic in future months. For now, here are this months posts.
Month 23: May 2021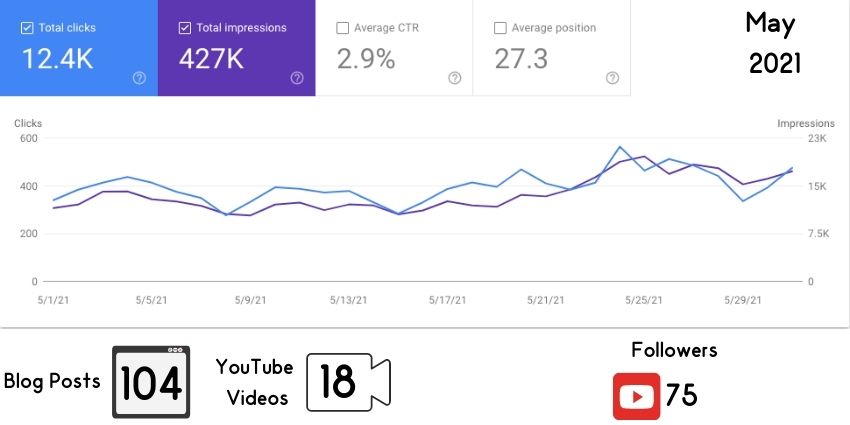 May was a pretty epic disaster for me personally. Got my 2nd vaccine and got pretty sick for a day or so. Then started seeing my friends again a couple weeks later (And immediately got sick again. I don't think it was Covid, but it still knocked me out of the game for a week).
It's encouraging to see my impressions continue to rise. However, the clicks still aren't increasing like I'd want to see. I've got plans to address that by using AI to come up with sexier titles. We'll see if that can help things.
Blog posts this month.
Videos this month.
Month 24: June 2021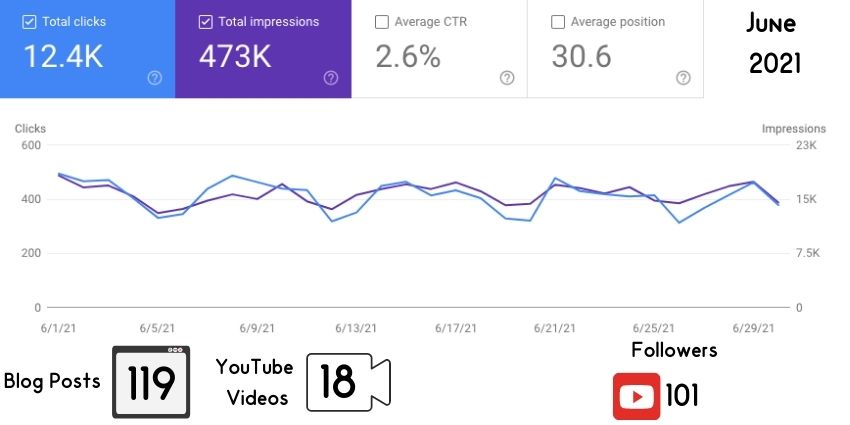 Holy cow, it's crazy that I've been doing this for two years now! This month I'm excited that I managed to catch up on all the blog posts I missed last month. Plus, I reached 100 subs on YouTube which allowed me to name my channel (which I'm weirdly excited about).
Tempering my excitement is that my content has been stuck at this exact traffic level for about 6 straight months now. This is despite me blogging faster than ever, YouTubing and adding the videos to blog posts, passing core web vitals, implementing schema, dark mode, etc.
My initial goal was 100k clicks per month from Google within 3 years. I think I can still hit that metric (or get close), but I need to 8x my traffic in only one year to reach that. So I've got my work cut out for me. I don't plan to do much different over the next year. Overall, if it takes me 4 years to hit my goal instead of 3, I can live with that.
Month 25: July 2021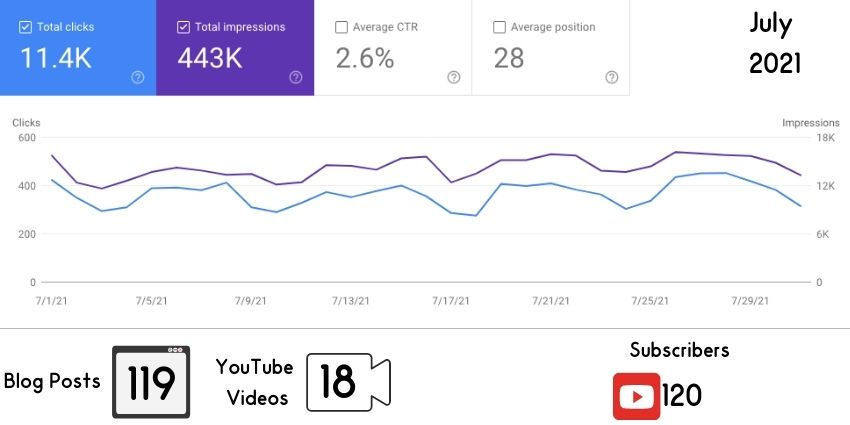 I got nothing done on this blog in July (and early August).
After mostly being locked in my house for a year and a half I decided to get my Summer in while Covid cases were non-existent and I was vaccinated. And I'm actually glad I did because cases immediately skyrocketed back to peak levels by September. So back indoors!
Month 26: August 2021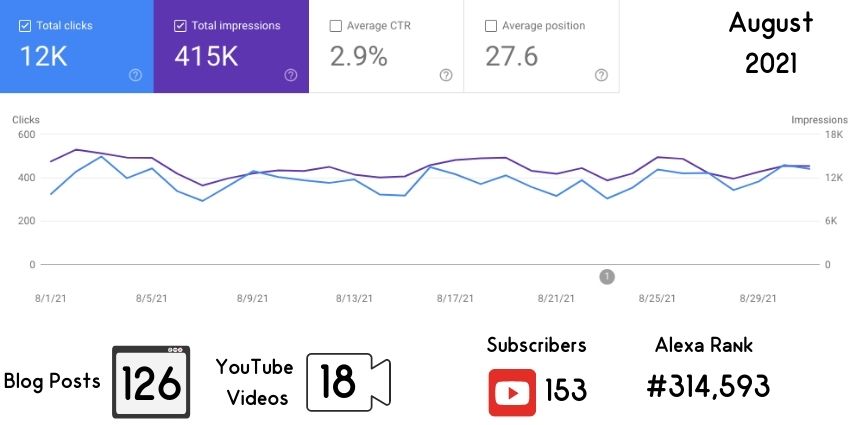 I think the big takeaway from August was that Google's big Core Web Vitals update was a giant hype-job. My site passes all Core Web Vitals metrics and my impressions and clicks actually went down since the update began.
I also added my Alexa Rank to the metrics I'm tracking. Alexa's a free tool that tries to rank all websites by total engagement. It's kind-of cool to think about how I have the #314,593rd biggest website in the world. So I decided to start tracking it.
Anyway, here are my posts for August.
Month 27: September 2021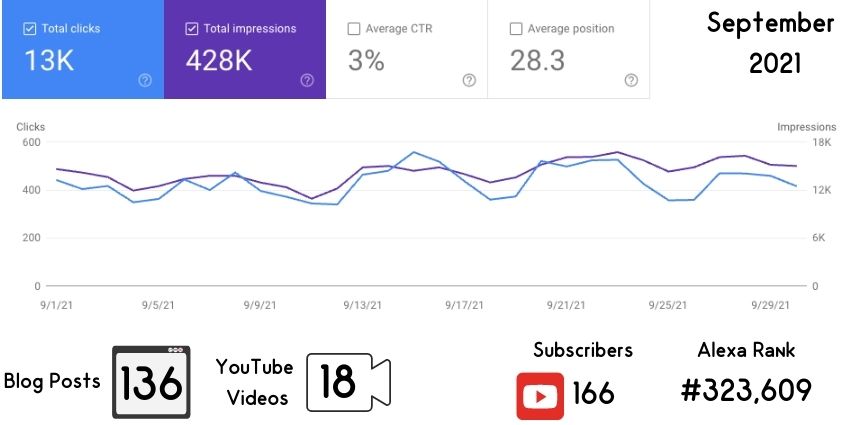 September was a good month for me. I was incredibly busy outside of this blog but still got 10 posts published. That's a rate I'm very happy with when life's getting in the way. Last year when life got in the way I was down to only 2-4 posts a month.
Month 28: October 2021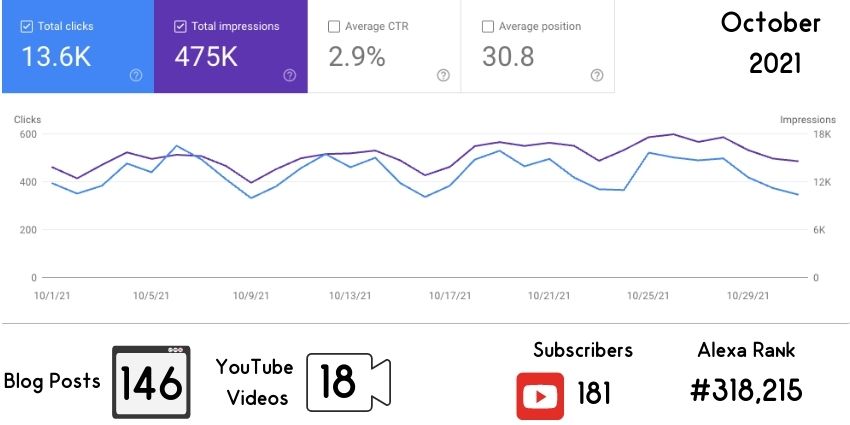 This is my best month ever for traffic and impression! And yet, it feels incredibly disappointing for me due to the lack of growth since February (when my blog was half the size!!!). But, I shall continue blogging hard for now. Here are this months posts.
Month 29: November 2021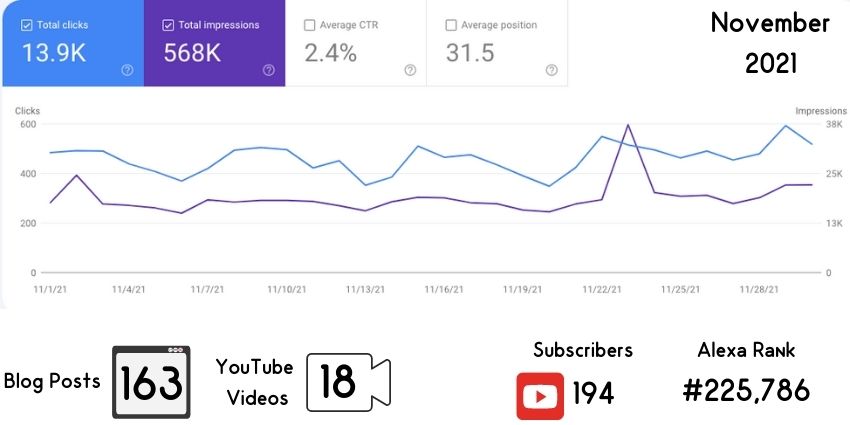 Another record for clicks and impressions, and yet another month that feels very disappointing.
I published 17 posts this month (a record for this site in only 30 days). Some of those posts are actually already getting some clicks. And yet another month where it feels like Google has capped the overall size of my website. As my new content starts ranking well, the older content moves down the ranks to compensate (by the exact same amount the new content went up).
I did have some encouraging news this month as Namecheap actually do-follow linked to my through their blog. It's by far the best link I've gotten to date from a domain authority perspective. So maybe it'll help Google to trust this site more and start moving me up the ranks.
Month 30: December 2021
Starting next month I'm going to re-write this post so that there are only updates every 6 months. 30 months in this blog post has gotten a lot longer than I anticipated it being and I think condensing it down will make it a better resource for new bloggers (as well as something that's easier for me to maintain.
Thanks to anybody who's been reading my journey here. And I wish you all more success than I've had to date.