7 Best WordPress Hosting Sites in 2023 (Acc to Reddit)
Shaun Poore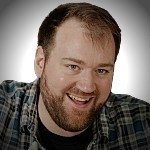 I've ranked the following hosts by which ones I would choose if I were a brand new blogger with no money. So affordability is prioritized over scalability. That said, I've also ranked premium hosts in this list for people who need to support a ton of monthly users. And I've taken a lot of user feedback from Reddit in crafting this post.
Google Cloud Platform is the literal best of both the cheap and the premium world. Why is Google Cloud Platform the best?
They offer a free $350 credit for signing up (It's free hosting for year 1).
It's less than $20/m after that. Or if you run the load balancer, it's about $50/m.
It can handle an outrageous amount of traffic. It's very powerful.
All the "premium" hosts out there are using this on their backends.
What's the downside? Well, this option will make your life a nightmare if Linux commands scare you. I wouldn't recommend this option for anybody without a technical background (or that doesn't want to learn).
That said, this guys step-by-step tutorial makes it simple to set up if you think it's the option for you.
Dreamhost has a good reputation on Reddit for web hosting. Fast loading, constant support, easy navigation, free SSL, pretty much all the things you need to start and run your website online. And the pricing is pretty competitive to boot.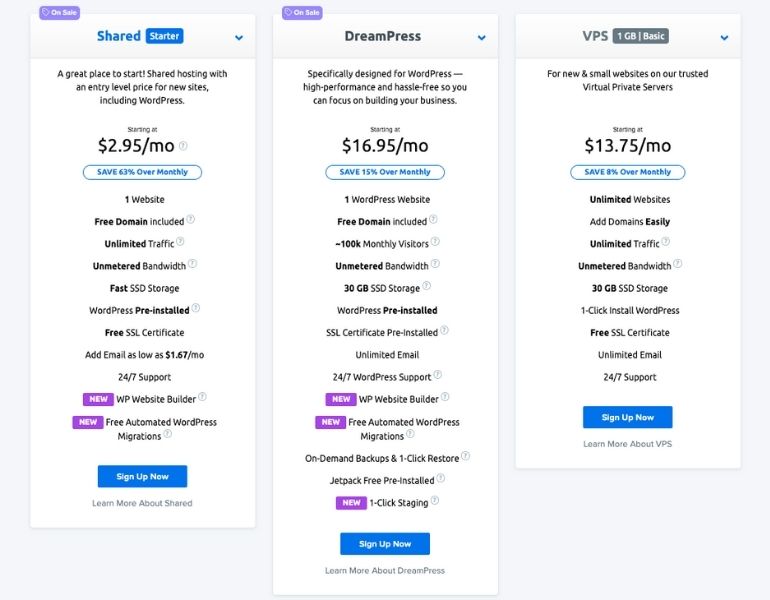 According to Reddit, SiteGround gets the best reviews. That said, these prices are introductory offers, they're going to raise the prices in year 2 of your blog. Which is similar to how all of these hosting sites operate (although some options will let you lock in introductory prices for multiple years vs. 1 year).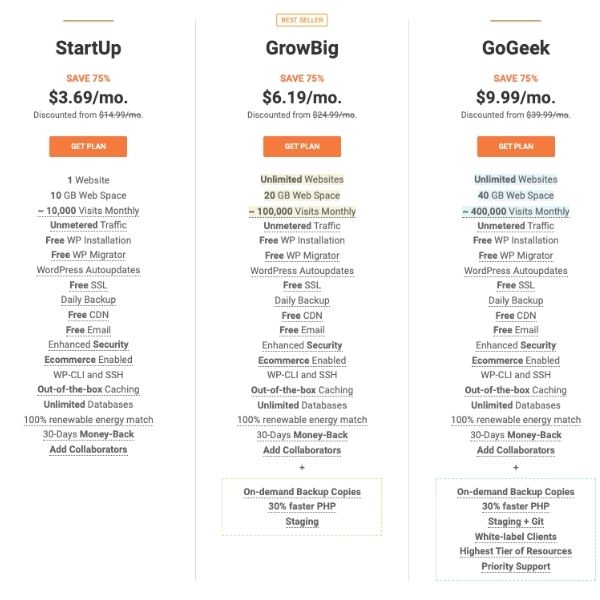 Siteground has a pretty great feature set for the price. I don't like how the intro offers are capped by pageviews (and you may be running to switch hosts if you blow past it). But other than that, what more could you really want out of your WordPress hosting?
And if you just start with the $10/m plan, that's affordable hosting for $120 per year (in year 1). And it's unlikely you're going to blow past 400,000 monthly visits anytime soon. So you're future-proofed (well, at least until the introductory offer expires after a year).
I'm going to get a lot of s*** for ranking Bluehost this high. There are a lot of people out there who genuinely dislike them. That said, I have personal experience with Bluehost as I started this blog on it. My only issue with them was that I eventually wanted a faster server.
But, did I mention it was cheap? For $99 with Bluehost you can get 3 YEARS of hosting and a domain name. Name another business you can legitimately operate for 3 years for $100? You can't, because it doesn't exist.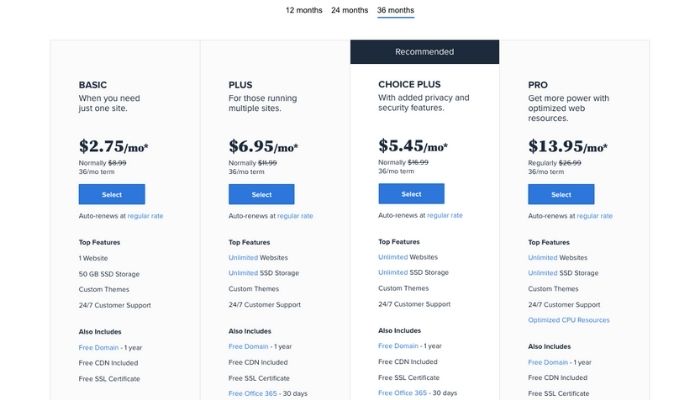 Like the other hosts, these introductory offers will expire and they'll raise prices (so consider locking in the 3 year plan). But, 3 years for $100, that's something a broke teen could save up and start their blogging career with fairly easily. It's a good deal.
I personally think NameCheap is underrated in the web hosting community. I've only ever used them for domain registration, but they've always done a great job at an affordable price. And their plans for WordPress hosting are very affordable. $9/m for 50GB of storage, a CDN, SSL, and up to 200,000 pageviews is a good deal. It's not something you'll easily outgrow anytime soon.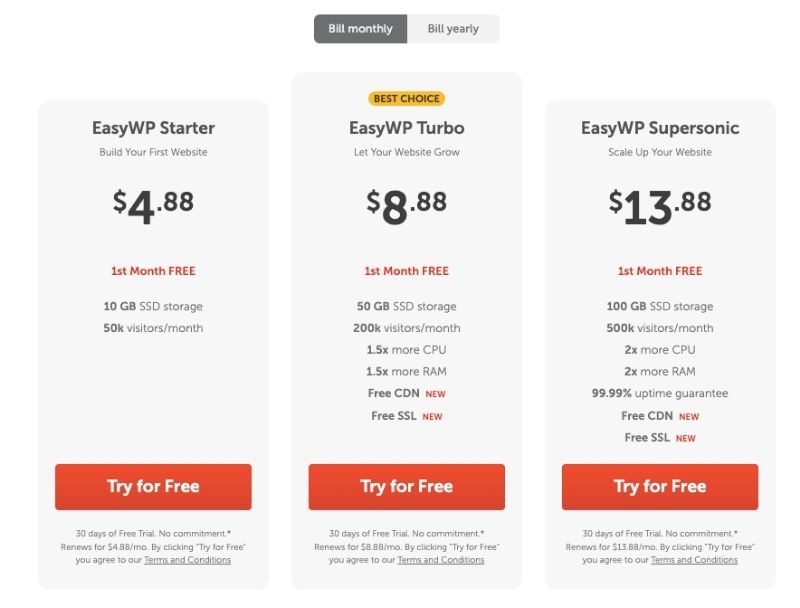 Nor is there a crazy upcharge if you do outgrow it. It's only $14/m for up to 500k monthly pageviews. Very few bloggers ever surpass that size.
Now we're getting into more expensive premium hosts. Kinsta is a super fast host built on Google's cloud platform. And as we discussed earlier, an architecture that utilizes Google's Load Balancer will be faster than other hosting options.
That said, there's a serious markup with Kinsta hosting. I set up Google Cloud Platform myself to host this blog. I have a load balancer, 30GB SSD, Standard CPU instance and it only costs me about $50 a month. And for that price it can handle over a million monthly.
The obvious problem with setting up the Google Cloud platform yourself is that you'll have to deal with all the technical headaches yourself as well. If you're not a software engineer like me, then Kinsta is likely the better option to just make all your headaches go away for slightly more money.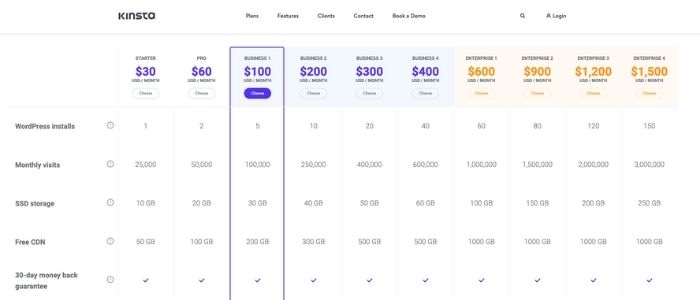 Personally I'm not thrilled with WP-Engine's pricing plan. Largely because $63/m is more expensive than the Google Cloud Platform and they only offer 75,000 pageviews for that price. They don't even list what it would cost if you were getting 100-500k pageviews!!!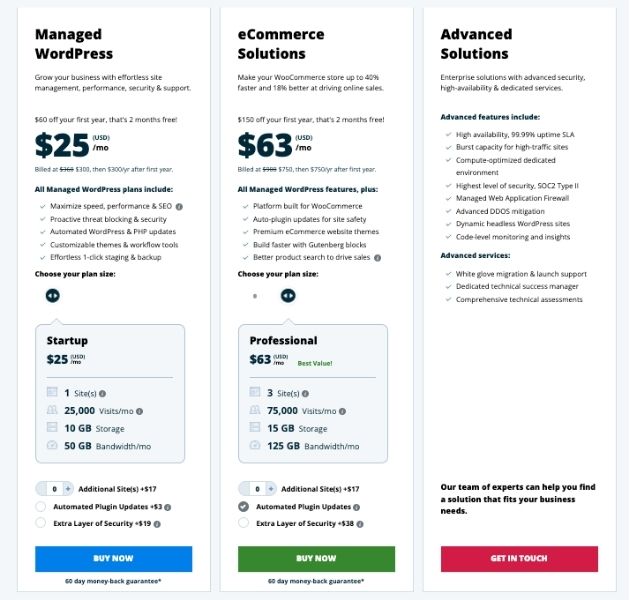 For me that's a hard pass. But, a lot of people swear by it. They say that they're a good host with fast speeds and they never have to think about anything. And I suppose compared to operating any other business it's still rather cheap to run a blog with this plan.
Should You Consider a 3rd Party Host (Like Medium, Blogger, etc.)
I wrote an entire post about why blogging on Medium is a bad idea.
The gist of it is that if all traffic and links are going to Medium.com instead of YourDomain.com you're never going to build up any domain authority on your own site. This puts you at the mercy of the 3rd party service (in this case Medium). For instance, if Medium decided to stop paying you you would have no recourse.
That said, if you're desperate to use something like Medium then make sure you can set Medium to use your own domain. At least this way if you get backlinks they'll go to yoursite.com and you can switch hosts.
Is Shared Hosting OK for Google?
Many people are concerned that a shared host might be bad for ranking in Google. They worry that the site might have a "bad site" on the IP or be horrifically slow. John Mueller has actually addressed this directly, these are both myths. While shared hosting could be slow, this is testable and as long as your website can pass core web vitals I wouldn't worry about it.
When Should You Upgrade to Premium Hosting?
Your cheap host can probably handle tens of thousands of pageviews per month until it becomes a problem. It took me 3 YEARS to reach that traffic level. So you get away with using cheap hosting for a very long time.
I personally ended up upgrading to Google Cloud Platform in year 2 for the following reasons.
The load balancer/speeds made it easier to pass Core Web Vitals.
The Bluehost editor was slow when saving posts (which was very annoying).
My blog was making more than the $50/m needed to afford Google Cloud Platform.
I suspect you'll follow a similar trajectory in your blogging journey if you're serious about it.