7 Best Keyword Research Tools in 2023 (For Bloggers)
Shaun Poore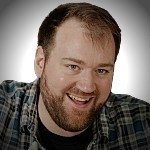 I have an entire post about how small bloggers should do keyword research (I don't think you require expensive tools). Plus, I think Google moderates your traffic regardless of which keywords you target (so hitting the biggest keywords may not even be an advantage).
That said, there are some amazing tools out there that can definitely help you to grow your blog. Some are expensive, some are priced fairly, and some are FREE!
Here are my personal favorites ranked regardless of price.
While I don't like Google Question Hub's UI, this is clearly the #1 keyword research tool in existence right now.
Why? This is information coming directly from Google about what they're willing to rank your website for… And it's free. What on earth could be better than that? That's exactly what we all should want!!! More please.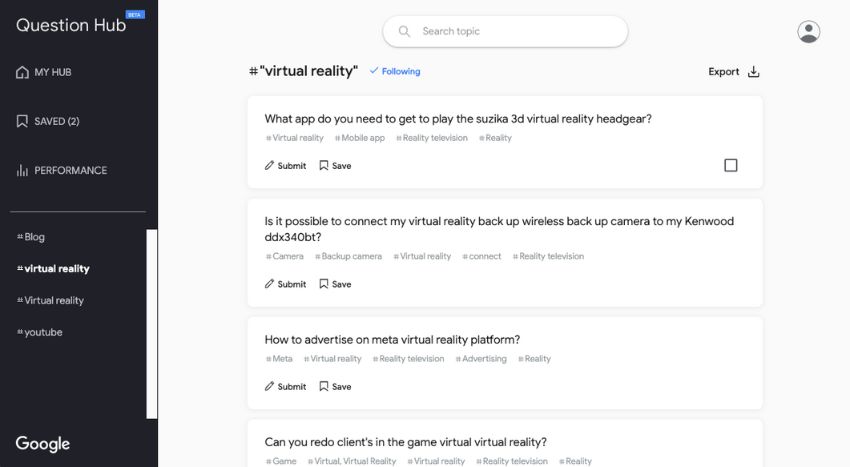 The downsides of this service is that the UI sucks. Many of the questions they put in front of you are incredibly low volume. You're likely to scroll through a hundred or more questions before finding a diamond in the rough which can be a bit of a time suck.
That said, I don't think there's a more efficient way to find relevant keywords out there. Or to brainstorm topic ideas around a keyword to help grow your topical authority.
2) Market Muse (Free Trial to $1,000/m)
I languished around where to rank MarketMuse because it's so dang expensive. And on top of that the UI of the software is dreadful at best.
So why on earth do I have it ranked all the way up here at #2? Well, quite frankly the way it uses artificial intelligence to recommend keywords you should include to build topical authority is second to none. The models they use appear to work better than any competition I've seen. And they have a free trial that might be adequate for a small blogger (although you need a business email to sign up).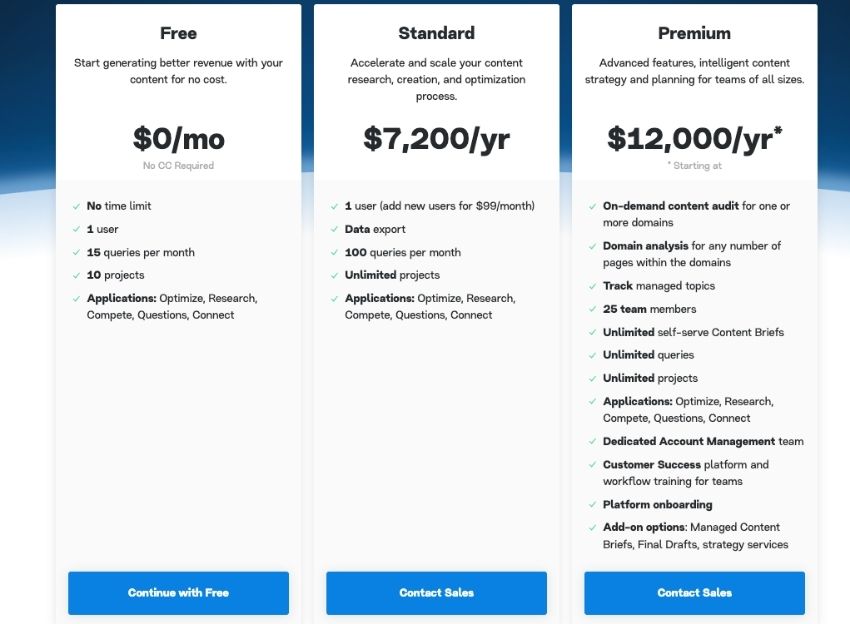 That said I still prefer the Google Question Hub for finding easy wins. And there's a cheaper version of MarketMuse out there that I also like.
SurferSEO is like a poor mans MarketMuse. The UI is significantly improved and it's much cheaper which is a breath of fresh air. That said, I don't believe their AI is as good as MarketMuse's.
For instance, Surfer's AI is more about reverse engineering the top ranking pages rather than generating its own topic maps. And that is perhaps a small distinction a lot of the time. But, if you're looking for your competition's weak spots simply copying what they did isn't going to get you there.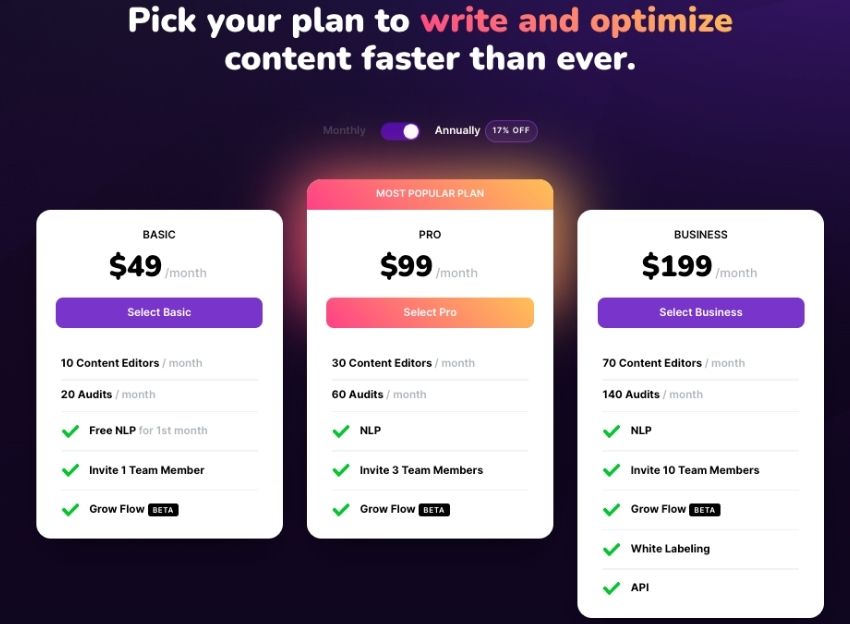 Not that I think Surfer is a bad tool. No, I do believe this feature-set can really help your blog out. Plus it can also do some AI content generation & website audits that may help you out. For those of you looking for that and an SEO tool at a more affordable price, this is a good choice.
Finally, we're into the more traditional keyword research tools out there. Tools like AHrefs provide some of the following helpful features.
Website Audits
Domain Authority Checker
Competitor Websites Best Posts Ranked By Traffic.
Keyword Volumes
And I do think these features are valuable and that AHrefs does them better than anybody else. That said, my problem with AHrefs is as follows…
Screaming Frog (detailed below) is a much better site auditor for 1/10th the price.
UberSuggest is just as good or better at checking domain authority and analyzing your competitors pages for 1/10th the price.
Their keyword tools are great! But, I don't believe finding high-volume keywords are the key to success.
AHrefs is a great tool and that's why I have it ranked above its competition. That said, it's also $200'm and if you want this functionality you can get most of it significantly cheaper.
5) UberSuggest ($29/m or $290 Lifetime)
I'm not the biggest Neil Patel guy, I think his advice is meh at best for 2023. That said, UberSuggest offers almost everything that AHrefs does only for $30/m as opposed to $200/m. And while I think AHrefs does a slightly better job of most things, UberSuggest isn't far off enough to justify the pricing difference.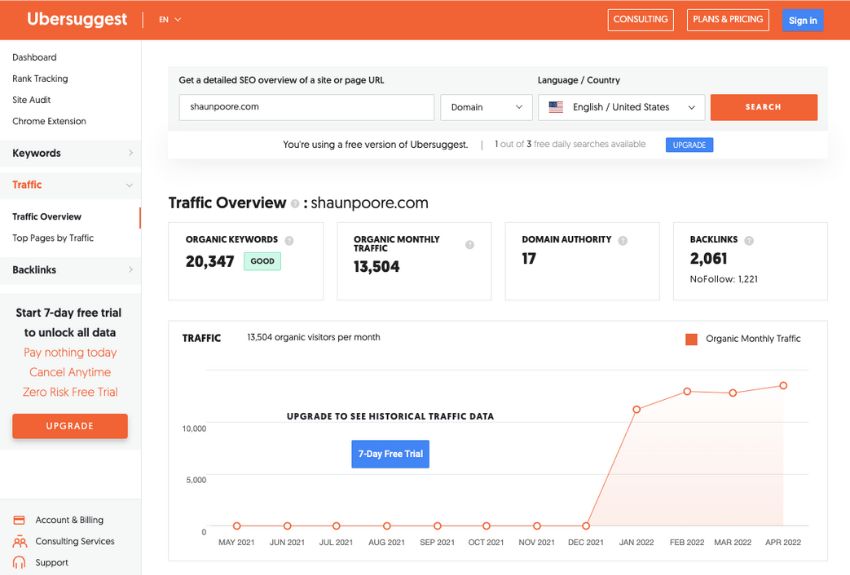 Plus, UberSuggest gives you a few free searches per day. It's a little annoying to space your keyword research out like that. But, for most bloggers who are low on funds the free option isn't a bad place to start if you feel like you need this functionality.
Screaming Frog is THE website audit tool for SEO's. It works from your desktop and you can scan competitors websites as well as your own.
While I wouldn't consider this tool a "keyword research tool" per se, it's the best website audit tool in existence in 2023. Don't buy AHrefs or UberSuggest for website audits when you can just grab this tool.
It's such a must-have for SEO's that John Mueller literally says he pays for his own copy of screaming frog.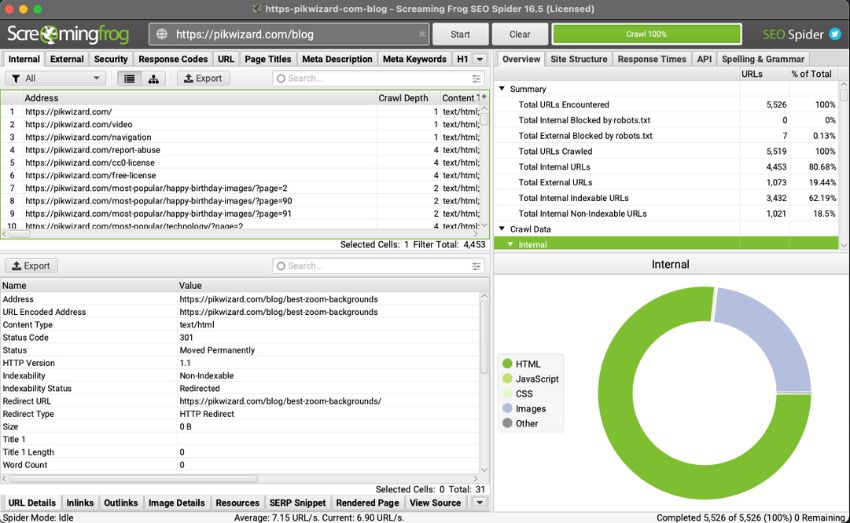 Plus, here's a bunch of crazy stuff I learned about my website the first time I ran it.
I was accidentally 301 re-directing most of my blog posts.
On a lot of posts I accidentally used H3's instead of H2's.
Several of my posts lacked Titles.
Lots of my posts had old broken links that needed to be updated.
My website was sending out weird header tags that needed to be fixed.
Some of my pages took an absurdly long time to load.
I had a ton of broken links I didn't know about.
I had pages that required 5 or 6 jumps before I was linking to it.
All the stuff above could have MASSIVELY been affecting my SEO. And I never would have learned about any of it if not for Screaming Frog. It was all simple fixes as well. Just a bunch of stuff I wasn't aware of in day to day operations.
TubeBuddy is THE keyword research tool for YouTube.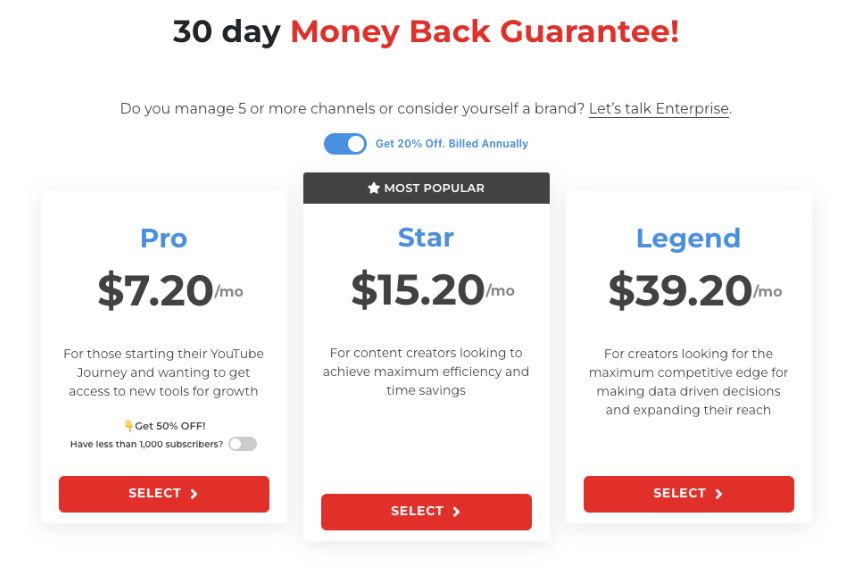 I personally believe that targeting YouTube's Discovery engine is a better approach than a keyword based approach. That said, if you are planning on making a play for YouTube Keywords this tool is a must have. And TubeBuddy actually does a lot more than just helping you with keyword research.
A/B testing Titles/Thumbnails (a must have).
Bulk description editing, tagging, commend moderation.
Help creating thumbnails, titles, descriptions, etc.
Plus, you can make a lot of money going the keyword route on YouTube right now. It's much easier to find actual low competition keywords that will consistently bring in 2,000+ visits per month than it is for blogging. There's simply much less competition given how much harder video is to create (not that good writing isn't hard to find).
Honorable Mention
The Following Tools have some appeal but they don't make the list for me. That said maybe you'll have some use for them.
| | | | |
| --- | --- | --- | --- |
| Tool | Price | What It Does | Why I Don't Rank Higher |
| GScore.io | Unknown, but paid. | Goes through your Search Console Data to find keywords and questions you rank for but don't mention in your post. Awesome idea! | The software hasn't been released as of this writing. |
| AnswerThePublic | Free, to Paid | Enter a keyword and it'll generate a list of questions being asked about that keyword for you. | I think Google Question Hub is going to provide more relevant results to your website since it comes from Google. |
| Google Keyword Planner | Free until you run ads. | Data directly from Google about how many ad impressions it thinks you'll get if you run ads on a keyword. | Really only works for commercial intent keywords. |
| Moz Keyword Explorer | $100-$600/m | I find it so helpful to be able to see the Domain Authority of every site in the SERP when doing keyword research. | Free version limits searches per day and paid is crazy expensive. |
| SEMRush | $119-$450/m | Similar to UberSuggest and AHrefs but way more expensive. Has some cool features the other tools don't. | Price is quite high. |
| Soovle | Free | A very cool tool that will show you what various web services will autocomplete when you type in a keyword. | Limited in scope of what it's useful for. Very good at what it does for free though. |
| GrowthBar | Free Trial then $29/m | Supposedly uses GPT-3 to help with outlines. | GPT-3 wasn't designed specifically for SEO (not that it can't be useful). |
| | | | |
| | | | |