How to do Keyword Research as a New Blogger in 2021
Shaun Poore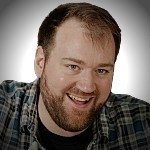 Pretty early on in my blogging career, I realized that I wanted some of that sweet Google traffic.
Just one problem. The "SEO Gurus" out there make keyword research sound like it's rocket science. You end up getting so intimidated that nothing gets done. This is such a waste because keyword research isn't that complicated anymore.
In this post, let's simplify all this madness. I'm going to give you all the actionable tips you need to stop being intimidated and start creating fantastic content again.
The History of Keyword Research
This may seem like we're backtracking. But, to understand why there's so much terrible keyword research advice out there, we first have to know how we got here. And to do that, we have to go all the way back to 1996.
In 1996, search engines were almost exclusively using keywords to match web pages to search queries. Meaning, if a web page had the word "pizza" in it 100 times, it would rank high for the word "pizza." This made it quite easy for spammers to rank and was an immediate problem across the web.
Yahoo had the most popular solution at the time. They decided to only rank websites that paid them to be in their search index to cut down on spam. So to this day, we all continue to pay Yahoo $300 a year to exist in their web directory… Right?
Clearly, that wasn't going to work. Enter Google. Google developed a system where page rank was dependent on backlinks. Those backlinks acted as votes of confidence that the sites were legitimate. Problem solved.
Or was the problem solved? Spammers immediately began linking to each other and for a while, they were back on top.
This pattern of Google creating a better system and spammers trying to beat it has been going on for 20+ years now. In that time, Google has become pretty advanced at weeding out spam. Now we think there are over 200 different ranking factors to help differentiate useful content from spam.
To stay ahead of the spammers, Google won't tell us how much weight they give each factor. Sometimes they won't tell us whether something is even a ranking factor at all.
We only "know" these factors exist based on the limited amount Google is willing to tell us. Or by reverse-engineering the search engine results page (SERP). Even with that, we're usually guessing whether a ranking factor is correlation or causation. Most of the time we don't actually know!!
How Important is Keyword Research?
With so many ranking factors, how valuable can any single factor be? Case in point, you've heard that page speed is a huge ranking factor for SEO, right?
Well, I challenge you to Google anything right now and enter the top results into the Google Pagespeed insights tool. You'll realize very slow sites currently rank #1 for incredibly competitive terms. Even on mobile.
So before we freak out about an individual ranking factor, we need to contextualize how much that ranking factor actually matters.
With keyword research, we have to go back to our original example from 1996. Everything Google has done up to this point has been to return relevant search results. When you type "pizza" into Google, Google wants Pizza related items to show up. Not spam, porn or other sites that don't solve the user's problem or make money for Google.
Google has hired some of the smartest people on earth. Those people have spent all day every day for the past 20+ years trying to better match searcher intent with the SERP. In 2020 they finally do a pretty great job of it. This is because…
Google RankBrain Changed Everything
Back in the '90s and '00s, if you wanted to rank your blog post for "How to change a car battery" it was a good idea to include "How to change an automobile battery" in your post as well. Keywords were the only way Google had to determine the relevance of search results. Thus, it was crucial to include as many keywords and synonyms as possible into your URL, title, and header tags.
Several years ago that changed. Google's Rankbrain Algorithm became one of the most significant ranking factors. So what exactly is Rankbrain and why does that matter?
Rankbrain is Artificial Intelligence that is user testing your content to determine relevance. Meaning user reaction is much more important than keywords when determining your relevance for a search query.
This is why finding synonyms and keyword stuffing is officially dead in 2020.
Talking to an "SEO Expert" about using keyword density to rank higher is like talking to a "Travel Expert" about using horses to drive faster.
Wait, Keyword Research is Dead?
Yes and no.
I'm not convinced that stuffing keywords into your URL, title, and header tags has any value from a relevance standpoint. It might be beneficial from a copywriting or user experience standpoint. But, you don't need to feed Google a lot of keywords for it to understand what your article is about anymore. So that's dead.
However, I do believe there are still 3 keyword research related things that you should do before writing new blog posts. Those things are.
Determine the ideal phrase you're targeting and its potential search volume.
Determine the current competition level within Google for your blog post's topic.
Write copy and match searcher intent as best as possible for that phrase.
That's all the keyword research you need to be doing as a new blogger. None of it is all that hard. So let's figure out how to do each step and get you back to creating amazing content!
How Do I Determine if a Blog Post Topic Gets Any Search Volume?
It doesn't matter if you rank #1 for the term "How to drink margaritas upside-down in a hot air balloon." Nobody is Googling that except for me 🙂 .
If nobody is Googling your topic, you'll get zero traffic even if you rank #1 for it. So step 1 is to determine a search phrase that gets search volume and is a good fit for your content.
The simplest way to do this is to use Google in Chrome's incognito mode. Google only auto-suggests phrases that get searches (unless you previously typed the phrase in yourself). So you know these terms get some traffic.
If I have a hard time determining a target phrase, or if I want a faster way to do the above. I will head over to Answer the Public and put in my root keyword. This will return a list of questions that are commonly typed into Google about that root keyword.
So if I type in "Keyword Research." Answer the Public will return frequently Googled questions about keyword research. Capture the phrases that seem the most relevant to the post you're writing. You may want to include these in your title or in a section of your post.
Another option I like is the free Keywords Everywhere Chrome extension. Simply type in a search query into Google. Keywords Everywhere will give you a list of related keywords and estimated search volumes. This is quite handy for finding the most Googled search phrases.
This is also where we start to get into a dicey area. We need to stop and talk about keyword research tools and their effectiveness.
Can Keyword Research Tools Accurately Predict Google Search Traffic?
I wrote an entire blog post on why keyword research tools can't accurately predict search volume. But, for now, let's keep this only to what you need to know.
Google doesn't release its exact traffic numbers for search queries. Meaning, keyword research tools are estimating traffic numbers. The tools are not great at estimating, particularly for low-volume long-tail search phrases.
This means two things that you need to be aware of.
If a keyword research tool tells you a search query gets 1,000+ searches per month. Its traffic estimate is probably off by 30% or more. But, since that's enough traffic to write a post about even with the margin of error, you don't have to care.
If a keyword research tool tells you that a search query gets 0 search traffic. You will need to manually determine if the tool is completely full of crap or not.
Long-tail phrases can sometimes generate hundreds or even thousands of monthly page views. When you combine them all together they can add up to big traffic numbers. Particularly since almost everything typed into Google is a long tail search phrase.
The problem is that keyword research tools will often tell you that these queries bring in 0 traffic. And they're dead wrong!
To illustrate this point, check out the types of queries that Keywords Everywhere claims will get 0 traffic. It's INSANE how wrong this tool is.
There is no way in hell "how to research keywords for blog posts" gets 0 monthly Google searches. None. But pretty much every keyword research tool out there is going to say that it doesn't get traffic. Including Neil Patel's Ubersuggest.
If you find yourself in this situation, how do you determine if the keyword research tool is wrong or if you're wrong?
Something I like to do in this situation is to type the same query into YouTube. YouTube lists the number of views next to the video. If those results have lots of views in a short time, people are Googling phrases related to this topic.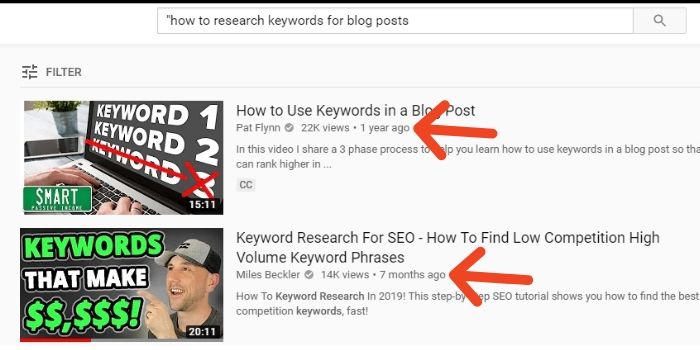 As you can see, the top YouTube results are getting well over 1000 views per month. This is a topic where Google traffic definitely exists if you rank high enough for it. It may not be insane levels of traffic, but people are Googling it.
Typing your search phrase into Google and YouTube may also give you ideas for alternative phrases you'd rather target. Maybe "Keyword Research For SEO" gets more traffic than what you've chosen. It's OK to target that phrase instead if you decide it matches your content better.
Keyword Research Tool Hack
My favorite way to use keyword research tools is to enter a competitors URL into a tool like ahrefs or a free tool like Ubersuggest and see their top-ranking pages.
When you do this, keep in mind that the traffic numbers for the high volume pages have an extremely high margin of error and traffic numbers for the low volume pages may be complete BS. Everything I told you about long-tail keywords and research tools remains true for this tactic.
What you're looking for is poorly written blog posts with few backlinks that clearly get traffic. This is an easy way to find blog post subjects that are ripe for the taking. Write your own post, make it better and you'll soon be getting some of that traffic for yourself.
However, be careful! As a new blogger you have no chance to outrank the top article for the highest authority site in your niche. At least not anytime soon. Find articles ideas from smaller sites, without a ton of backlinks, where the content isn't very good.
Google Search Console Keyword Research Hack
You need to write at least 10-50 blog posts and wait a year for this hack to work. But, once you've done that this is a guaranteed way to find topic ideas that get traffic!
All you have to do is log into your Google search console and sort the keywords you rank for by impression.
Find the keywords that you've never written explicitly about that get a lot of impressions. Then simply write an article explicitly about that topic and pretty soon all of that traffic will be yours.
This is different than using a keyword research tool for 3 reasons.
The traffic numbers are real.
The competition must be extremely low for you to rank for something that you didn't even try to rank for.
Google already trusts your site for this topic. A better article will win quickly. Unlike competing against other sites where it's unclear if you'll outrank them.
How To Choose Low Competition Blog Post Topics
As a new blogger with a brand new website and zero backlinks. It's probably going to be 3-6 months before Google trusts your site enough to put you on page 1 for any keyword phrase. Let alone one that is very competitive.
Because of this, you'll want to avoid having a large percentage of your posts go after topics with a tremendous amount of competition. You need to get some initial Google traffic so that Google will begin to trust your site. As you gain authority, you can rank for higher competition topics. But, for right now, you'll struggle to outrank more established websites.
To target low competition topics, download and install the free Moz SEO toolbar. Then enter a keyword phrase you're thinking of targeting into Google. If page 1 results have any of the following, it's an excellent sign that there is not too much competition. If it has ALL of the following, it's an even better sign there's not too much competition for that phrase.
Forums.
Websites that don't match searcher intent.
Content with very few backlinks.
If the SERP looks like it does above, absolutely go ahead and write your post for that topic. With a great post, you should eventually outrank forums like Quora, Reddit, or any low domain authority site that has 0 backlinks. The fact that Quora shows up as the #4 result in the SERP tells me there's not too much competition here.
However, if you Google the search phrase and the top 10+ results are perfect fits for the query, have many backlinks, and high domain authority. Then it might be time to reconsider whether you should write this blog post or not.
Consider niching the subject down into a smaller subtopic where there will be less competition. So if you were going to target "How to Lose Weight" and came to the obvious conclusion that it was too competitive. Maybe niche down to "How to Lose Weight with a desk job."
That's a bad example because "How to Lose Weight with a desk job" is also too competitive. But, that should give you an idea of what you need to do. If you choose a topic and find it's too competitive, find a related subtopic that you can focus on that isn't quite as competitive.
High Competition Doesn't Mean You Can't Write The Blog Post
Just because you will never rank for a subject doesn't mean you can't write about it. For example, here on Failure Mountain, I write posts that I don't think I can rank for all the time. Why do I do that?
Sometimes I talk about the same subject in a lot of my blog posts. Having that post available to link to helps my users and decreases my bounce rate.
Sometimes it's a clickbait article that helps users click to the next page and stay on my website longer.
Sometimes the article will work on Pinterest or Social media even if it doesn't work on Google.
Sometimes I'm feeling passionate about a subject and want to write about it because I can.
The point is your articles can have value even if they never get found in Google Search. That said, do try to mix in some subjects that can be competitive on Google. Otherwise, your new blog will struggle to get off the ground.
Match Searcher Intent
Back to Keyword Research. Ideally, you've now got a search phrase in mind that gets some traffic and isn't too competitive for you to rank. Congratulations!
Except… There's one more gotcha you need to watch out for before moving ahead with the search phrase.
Don't try to rank a blog post for a search phrase if blog posts aren't shown on the SERP. If you Google something and all you get back is product pages, don't try to rank a blog post for that term.
For example, don't try to rank a blog post for the word "chainsaw." That's clearly a transactional query, product pages will get preferential treatment. Anything you Google where blog posts aren't at the top of the SERP you should stay away from. Modify the search phrase to something informational so that you start to see blog posts being returned.
Write Amazing Copy and Content that Matches Searcher Intent.
OK, you picked your target search phrase. What do you do now?
Google measures how well users respond to your page to determine relevance. So all you have to do is ask yourself how can you create the best user experience possible for somebody typing in the query you're targeting.
This involves optimizing your title and meta descriptions. Imagine you were searching Google for "Absolute best chocolate chip cookies." Which of the following listings is the most appealing to you?
You need to think about how users will react to your title and meta descriptions. It helps if Google returns precisely what I've asked for as well as excellent copy like "Soft, Chewy and Irresistible." This makes me want those cookies right now.
Create the sexiest title, meta description, article, and user experience that you can. Google measures this to determine relevance. They will reward you for doing a good job eventually.
You don't necessarily need to include your target phrase in your URL, title and header tags. But, it will likely be better copy and thus a better user experience if you do. Users tend to like it when you match the language that they're using.
Ranking In Google Will Take a Long Time
How much time will it take to rank this post in Google? You can follow exactly how long it took my website right here. It's the most thorough and honest Google traffic report on the web.
I've found that Google will usually index your blog post within a few weeks, even if you're a new website. However, that doesn't mean Google will begin to send you traffic. As a new website with no backlinks, you're probably about to wait 6 months or longer before seeing significant returns on your investment.
This wait feels terrible. I understand, trust me. Slaving away to create a remarkable post, hitting publish, and then realizing nobody is going to read it is an awful feeling. As a blogger, you have to deal with this feeling a lot. It's why not everybody has what it takes to be a blogger or business owner.
What Can You Do Besides Wait For Google Traffic?
You could write more blog posts and promote them through social media or ads. I've seen reports that Google will begin to notice all of your content faster if you can get 1 piece of content to go viral.
You could start to build a YouTube Channel. Adding multimedia to your page will help it rank higher. Plus, YouTube is an enormous traffic source by itself and has less competition than Google for search phrases.
Beyond that, wait and congratulate yourself on a job well done. The waiting is hard, but if you did everything right, the traffic should come eventually.
Conclusion
In 2020, keyword research is simple. All you're doing is identifying high volume topics that you can easily rank for then using the most Googled terms to write great copy.
I hope this simplified keyword research for you so you can get back to confidently creating great content for your blog 🙂