The Best Private Video Hosting Sites for Embedded Content
Shaun Poore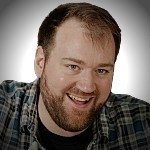 A while back, I was looking to embed private video courses on my blog. But, it's hard to embed a private video with YouTube. So I began looking for a private video hosting service to serve my video courses. Let's go over the best options that I found!
Vidello is by far my #1 choice when it comes to private video hosting. They have a $39/m plan that comes with both analytics and split-testing! As we go through this list you'll see that's more features than most other vendors offer at a much better price.
They advertise that their software is specifically for course creators looking to embed private videos onto their website. Jackpot! This is surprisingly hard to find out there and one of the things they offer that very few other do is domain protection. People can only get to your videos on your site! Finally!
Vidello's dead simple to use. Simply upload your video, grab the embed code and you're done. Analytics just works. It's great!
They also have a Free Trial available if you're looking to try it out!
I don't recommend Swarmify to most of you because they only provide the player (You have to host the videos yourself on your own WordPress site).
That said, that's also what's great about them. When you host your video yourself, there's no caps on file size's or traffic (beyond what your host places onto you). You also won't have to upload your videos to a 3rd party (that you may not necessarily trust with them).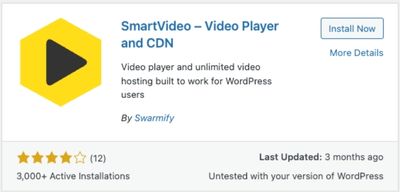 Swarmify comes with a WordPress plugin with decent reviews. And the price is only $29/m which actually falls in line with some of the cheaper options on this list.
Wistia would be my #2 choice for private video hosting. They have a great feature-set. Their privacy settings are easy to understand and help to keep your video from getting out into the public without the embed code.
The problem with Wistia is that it's expensive! 10 video embeds costs $100 per month! I had to reach out to Wistia about their hundred video embed plan. They quoted me at $400/m on May 21st, 2020. But, price can vary depending on what you need.
If you have lots of money, I like Wistia's software the best. But, the 10 video option is 4x the cost of Vidello(who gives you 200 videos). The 100 video option is 16x more expensive. If price matters to you I don't think this makes sense.
SproutVideo is an OK budget option when it comes to hosting private videos.
They don't have a free tier. But the $25 per month plan provides enough features to host a course on your site behind a paywall. You'll find that's a competitive price with the other options given the feature-set.
The software is also easy to use. It comes with analytics built-in. It doesn't quite have all the features of Vidello but those are the primary features that I care about at a good price.
Vidyard
Vidyard is another reliable budget option. They have a free tier where you can embed 5 videos on your website. They also have a $19 per month plan where you can embed 20 videos.
The site is intuitive to use. However, I don't like Vidyard as much as SproutVideo. The pricing beyond 20 embeds per month is unlisted. In my experience, hidden pricing means expensive.
They also can't set your videos as private on the free tier. If somebody came across the link, your video could spread. I was unable to find the public link when embedding. But, I'd love the option to mark the video as private so that I knew it wasn't being accessed.
Vimeo
I dislike Vimeo. Their product wasn't easy to use, and their pricing isn't straightforward either. That said, they have a lot of name recognition, so I felt obliged to include them on the list.
A big problem with Vimeo is that you need to sign up for their Vimeo Pro, Business, or Premium plans to upload commercial content. Those plans cost $240 per year, $600 per year, and $900 per year, respectively. And they don't offer monthly plans for those plans, meaning you'll be forking over a lump sum payment right away if you want to use it.
Even worse, it is not easy to embed a private video from Vimeo. You need the $900 per year plan to get the required settings. But, Wistia's $100/m plan looks more appealing than Vimeo if you're forking over $900 for this.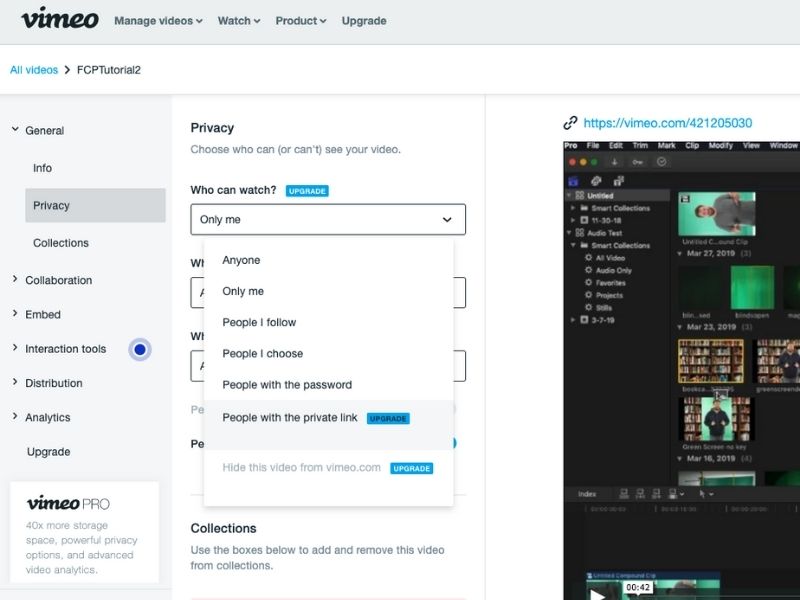 Vimeo just rubs me the wrong way.
Amazon S3, Google Cloud Platform, etc.
Cloud computing platforms are great if you looking for the cheapest way to serve video at extreme scale. That said, setting these embeds up on a cloud platform is difficult. You're much better off just paying one of the very affordable services above.
Are There Any Free Private Video Hosting Options?
YouTube is a fantastic free video hosting service. The only problem with YouTube is that it's not practical to embed a private YouTube video on your website.
Use YouTube if you don't care whether the video is private or not. YouTube has an unlisted option so that you can't get to the video without the link. The problem with that approach is the visitors to your course will quickly discover the public link. Then they can freely pass it to anybody they want.
Free Public Video Hosting That Won't Work For Embedding Private Videos.
I looked into hacking the following public video services to see if I could embed private videos using them. They all fail when setting the video to private.
Twitch: I was a little bit encouraged by Twitch because they allow the embedding of video clips. But, the clips are public and there's no way to set them to private. .
YouTube: They're an incredible video hosting service. But, it's too difficult to embed private videos so you're better off looking elsewhere.
Google Drive: As of 2023 you can't embed a video on Google Drive and there is no associated player with the service.
Facebook: Facebook almost works. The problem is that you can't embed a post or video if the post isn't public.
Instagram: Instagram doesn't allow you to embed non-public videos.
Twitter: Twitter doesn't allow you to embed non-public tweets.
DailyMotion.com: I couldn't even get a video uploaded when I tried to use it.
Conclusion
Wistia is the service I'd choose if money didn't matter. If money does matter I'd pick Vidello.