12 Best Stock Video Sites for YouTubers in 2023
Shaun Poore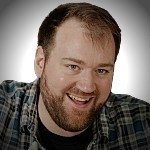 As a new YouTuber, I needed extra B-Roll to help bring my videos to life. Where do you get decent stock video clips? Let's find out!
Why I Recommend Paid Stock Video Sites Over Free Ones
The paid sites typically own (or manage) the copyright on the material. Meaning they will have a system in place to appease YouTube's Content ID system. Meanwhile, on the free sites they let you download anything that their user base uploads. They don't check the uploads to make sure a malicious user didn't just upload copyrighted material (where they intend to collect money by demonetizing you at a later date).
Plus, the paid services tend to have better clips. As such, the free services are ranked at the bottom of this list. Let's get to it!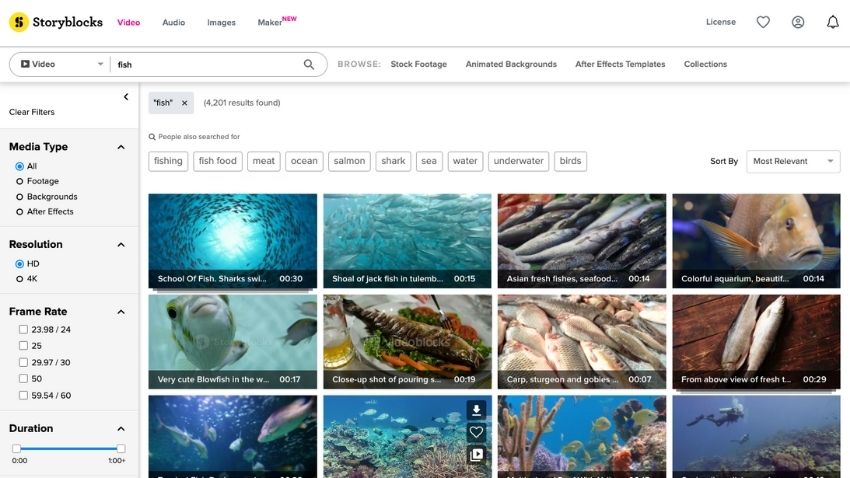 You've probably heard of Storyblocks as they promote themselves aggressively with sponsored YouTube content. They are number one on my list for a few reasons.
Storyblock's license is pay once, unlimited downloads (which is hard to find).
They have a good selection of clips (Even 360° video if you're into that).
The UI is intuitive to navigate (a surprisingly big deal when trying to sort through tons of clips).
Their pricing is reasonable ($360/yr as of this writing).
They have stock photos too.
I recommend them and use Storyblocks myself. That said, StoryBlock's clips are very "stock-like" in that they feel a little bit generic at times. This is where my #2 recommendation comes in.
2) ShutterStock – ($1,999/yr, *for 20 clips a month)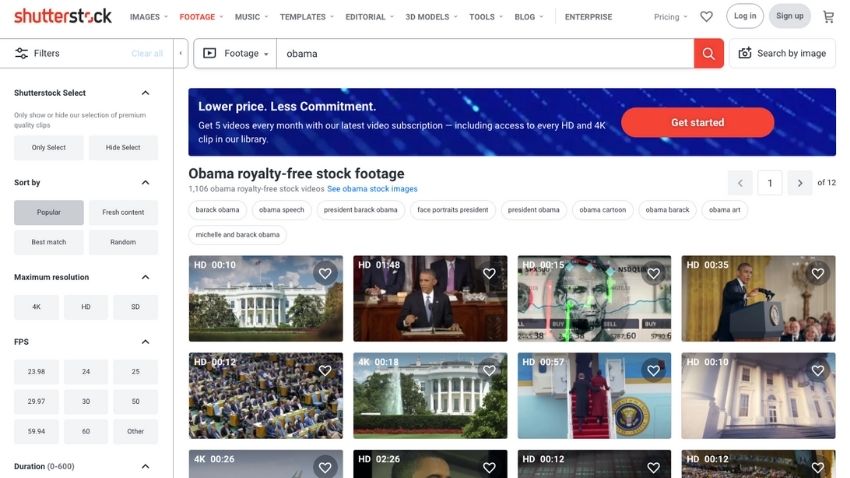 ShutterStock's pricing is obviously nowhere near as friendly as Storyblocks.
That said, Shutterstock is this high on the list because of their selection. Shutterstock has news clips! Shutterstock has celebrity videos! These clips simply aren't going to be available on most other stock video websites (and the websites it is available on are typically much more expensive). And Shutterstock's license is favorable.
At 20 clips a month, the price works out to be under $9 per clip. With the quality of footage from ShutterStock, it's actually not too bad. Plus, their general stock footage tends to be fairly high quality as well. That said, $2,000/year isn't a joke amount of money for a YouTube hobbyist.
Motion Array has very similar pricing to StoryBlocks. In fact, if you go with the yearly option, it may actually be cheaper. Plus, Motion Array's license specifically mentions YouTube's Content ID system several times (which is always good to see). It appears relatively straightforward.
It's also a similar selection of clips to StoryBlocks. Motion Array a free tier, but the selection of the free tier left a lot to be desired when I used it.
Envato Elements also has many stock clips, and the pricing is the most favorable on the list at $16.50 per month. Plus, this site's not just limited to stock clips. Envato's a good place to grab fonts, stock images, music, sound effects, you name it.
I've found user's online complaining about Envato's license. The problem seems to be that you need to register an individual clip each time you use it. So people were downloading all the clips they wanted, unsubscribing, then attempt to use those same clips in the future. You can't do that; it'll lead to Envato issuing YouTube content ID notices.
VideoHive says they're part of the Envato Market. So I believe the Envato Elements subscription will include the ability to download from VideoHive. This is good because VideoHive has more stock clips available than the Envato Elements website.
ArtGrid's pricing model is similar to StoryBlocks. You pay $49/m, and their license covers unlimited downloads. Not bad.
I rank ArtGrid below StoryBlocks because it's more expensive and (in my opinion) doesn't have as great a selection of clips. That's not to say StoryBlock's selection couldn't stand to be improved upon; it's just that ArtGrid specifically doesn't improve upon it.
6) Pond5 ($200/m or $1,000 per year)
Pond5 has a very similar pricing model to Shutterstock. You have the option to buy a membership in which you can download 10 clips per month. Or you can purchase clips à la carte, which will likely run you $40+ per clip. Like Shutterstock, they also have some news clips available. As a bonus, they also mention YouTube in their license as an acceptable distribution channel.
I think of Pond5 very much as a Shutterstock competitor. The only reason I have them ranked lower is that I felt Shutterstock had a significantly better clip selection. Particularly when it comes to sports or celebrity photos.
I don't like Adobe Stock's pricing because their video clips are not included in their monthly plans. I also don't like Adobe Stock's license because they don't specifically mention YouTube.
And they have weird language about the clip not getting more than 500,000 views. I don't want the most successful video in the history of my channel to be making me feel stressed because it potentially violated my license agreement and I have no idea what to do on the other side of that. So no thanks.
However, they appear to have a reasonably large selection of stock video clips. So they make the list.
8) Dissolve ($29+ per HD clip)
Dissolve ranks very low on this list because their license wasn't very straightforward about how they handle YouTube. And because their pricing tends to be per clip, and it's unclear what Dissolve's $100 per month plan actually allows you to download.
That said, they do appear to have a good amount of stock footage, and so they make the list.
Very Expensive Stock Video Sites
9) Film Supply ($200 per web clip)
Film Supply makes the list because they have a lot of very high-quality clips. However, at $200 per clip for web use, it's going to be way outside of most YouTuber's budgets. Another negative is that their license doesn't explicitly mention YouTube. Given how aggressive YouTube's Content ID system is getting, I like to see that in the terms.
Getty Images has a lot of high-quality stock clips. Plus, news and celebrity photos as well. The problem is that their pricing is not cheap. I listed the price as $200 per web clip, but you can expect to pay multiples of that if you want the high-res video files.
Also, their license covers "Web Use," but I like to see YouTube called out by name as navigating the content-id system can be tricky.
Free Stock Video Sites
Pixabay's license seems simple enough, and it should cover YouTube. They don't hold the copyright of the clips that you download. Meaning they can't help you out with YouTube's Content ID system if issues arise. Watch out for scams where people are releasing videos to the platform simply to put content ID claims in at a later date. It can happen if you go with a free option because the site doesn't own the copyright.
You can't beat the price here (FREE), and I actually think they have a decent selection of stock footage for a free site (if you trust that it's all copyright free).
Pexels license also looks fairly simple and should be good for YouTube. But again, this is another site where anybody can upload anything. Pexels has no proof to feed to YouTube's Content-ID system that there's no copyright on the material. This could lead to trouble down the line.
I list them slightly below Pixabay as I felt Pixabay had a slightly better selection of clips. That said, it's close, and I think you could do well using either platform.
PikWizard's license says it's good for websites and "internet broadcast" which should mean YouTube. But, like the others in the free section I don't see a Content ID system in place which scares me if you're serious about making money off your channel.
I listed it below the other free options because I didn't feel like the selection was quite as good.