57 Ways to Create a Product For Your Digital Business
Shaun Poore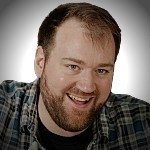 Creating your own product is how to make real money from your blog or YouTube channel. Ads or Affiliate marketing might make you a few dollars per thousand impressions. Meanwhile, your product will easily 10x those numbers. The problem is that creating a product is hard.
But, my goal's to make product development easier for content creators. So I created this massive list of every way I can think of to create a product. I hope you enjoy it!
1) Software as a Service (SaaS)
Selling digital products is a heck of a lot easier than selling physical things. Physical inventory has upfront costs, tax implications, ship times, and returns. It will make it challenging to scale your business.
And as far as digital products go, SaaS is one of the best options. All you have to do is recruit a customer once, and they'll pay you for months before cancelling their subscription.
What's a SaaS business? Some of my personal favorites include LastPass, Headspace, Zapier, Oberlo, and Trello. The graphic below contains tons of examples, but it's nowhere close to an exhaustive list.
Some of the names on this list are complex software and look intimidating. You don't need to create anything that sophisticated to make tons of money from it. For example, headspace is just an app that plays an audio file of a guy walking you through meditations. A good developer could build that in a weekend.
2) E-Books
E-books were the go-to monetization method for blogs back in 2011. The logic was that you already had a ton of text just lying around, why not compile it into a book and then sell it to your audience?
For example, this blog post is 9,000 words. If I filled in some of the gaps, I could transform it into an e-book to sell. If it doesn't become a major traffic driver through Google I may do that.
The main problem with selling e-books is that the conversion rates will be quite low. You need to build a rapport with your audience before they feel like they want to read an entire book from you.
That said, it is an easy-ish product for bloggers to create and distribute. And let's say you're selling an e-book for $20 to every 1,000 visitors. Suddenly you're making more than you do from ads without cluttering up your site. Not too shabby.
For those interested, Copyblogger has a useful guide on how to publish your e-book on kindle.
3) Digital Courses
How much should a digital course cost?
I'm not sure, and that's a good thing. I know that paying $70 for an e-book sounds insane, but what about a $400 digital course? Is that too much?
It's hard to say. I know that university courses cost significantly more than $500. So if an e-course teaches valuable material well, that's a steal.
If you start selling digital courses, you can make an absurd amount of money. Here's Sunny Lennarduzi's explaining how she sold $100k worth of courses with a single YouTube video. That's more than most people make in a year.
And there are countless examples of people creating courses and making a killing out there. I'm not necessarily promoting any of these, but here are some that I know have serious volume.
Income School's Project 24 – a $450 course about blogging that I've personally taken.
YouTube for Bosses – Sunny Lenarduzzi's $600 course about creating a YouTube channel.
Pinfinite Growth – Melyssa Griffin's $400 course about getting traffic to your blog via Pinterest.
I could go on. And not all courses are about blogging; these are just examples I'm familiar with. Courses about woodworking will sell equally well if it fits your niche. You just need to find something that resonates with your audience.
4) Print-On-Demand
Not enough people take advantage of using print-on-demand to sell merchandise. Print-on-demand offers the convenience and conversion rates of Aliexpress dropshipping. But, with none of the quality control or shipping problems. It might be the easiest way to go from 0 to business overnight.
They also offer a ton of items that you can sell on your website. The image below is a small subset of things you can put your picture on and sell.
There are two types of print-on-demand companies out there. The first is companies like Printful, Printify, Gooten, Printfection, Print Aura, and Scalable Press, where you sell the items on your website. Selling on your website is ideal because it allows you to set the margins and brand the content.
The second type of print on demand company are stores like Society6, Redbubble, Design by Humans, Zazzle, and Threadless. With these companies you upload your artwork, then you receive a commission on the sales. The commission is in the 10-15% range. These act more like an affiliate program.
You want to stick with the first type of print-on-demand company. The profits will be significantly larger. And your conversion rate will go up if customers don't leave your site.
If I were starting a new blog or YouTube channel, print on demand would be one of the first things I'd look to as far as monetization goes.
5) T-Shirts
Aren't t-shirts just print on demand?
Yes. But, I mention t-shirts because there's more infrastructure available when selling t-shirts. There are many more manufacturers and marketplaces to sell your t-shirts. Plus, everybody is always in the market for new t-shirts, and it fits every niche.
The problem is that most people have an idea of what they're willing to pay when buying a t-shirt. That max price caps your margin per sale to around $10 max per shirt. A low margin considering the effort that goes into selling something online.
The solution is to use the t-shirt as your tripwire offer and have 2-3 one-click post-sells. By doing this, you can significantly increase your margins per transaction.
6) Cell Phone Apps
This one is near and dear to my heart as I used to be a full-time software engineer, and I currently sell apps. There are four types of business models you can choose from when you're selling a cell phone app.
Free Apps
With this model, you make money by getting huge numbers of downloads and then treating the monetization like you would a blog. So you sell ads, or you create another product and sell it from the free app.
Freemium Apps
I wasn't sure if I should call this a model or a marketing tactic. With this model, you create a crappy free version of your app, making people pay to unlock cool features.
Buy It For Life App
Consumers think they want this model. They buy the app one time, then own it for life. But, as a software engineer and business person, I HATE this model.
With this model, developers have no motivation to update the app after the bulk of the sales have occurred. So you haven't really "bought it for life." Developers will stop updating the app in 2-3 years as sales dry up. After that, what you bought will become worthless.
Recurring Payments for App.
Now we're talking! This model is the same as the SaaS model we talked about earlier.
SaaS mixed with cell phones is a truly incredible business model. The upside is that it's easier to find customers and get them to pay. The downside is that Apple and Google take 30% of your revenue. Overall the access to customers is usually worth paying the absurd tax.
7) Consulting Services
Trading hours for dollars is the antithesis of an online business.
That said, if you're currently working a job for $25 per hour, it makes perfect sense to start advertising the same service on your website. Only when working from your website, you now charge $100 per hour.
If you have a trade, people are willing to pay for it online. This is a great way to transition out of your job. If you're a software engineer, dietitian, graphic designer, copywriter, or therapist. Remote consulting work is a great way to start working fewer hours at higher rates.
Use the freed up time to build a business in which you're no longer making a straight trade of hours for dollars.
8) Coaching
Coaching might be double-dipping on consulting. That said, life-coaching has popped up as a notable online industry. People will pay for it, particularly if you have a skill another person wants to master.
9) Sell Other Consultants Hourly
Pretend you're a consultant, and your blog or YouTube channel has generated so many leads that you can't possibly work all of them. At this point, you could start hiring other consultants in this field and selling their time instead of yours.
You simply take off the top. If your consultants make $30 per hour, charge $45 per hour and take the profit.
For example, Problogger has a job board for hiring bloggers. Or, if you want to hire a therapist, Talkspace is a platform that lets you do that. Once you have enough clients, you transition from taking the clients yourself to becoming the platform used to get clients.
10) Your Resume
You can't actually sell your resume. That said, semi-famous YouTubers are getting invited to speak at things around the country. Having a compelling YouTube channel and blog can be a gigantic boost to your resume.
If you have a dream job that you don't think you can ever get, becoming an influencer is a great way to lobby for that job.
It's a lot more appealing than having your resume in Microsoft Word format.
11) Membership Site (or Facebook Group Access)
Membership sites are a spin on coaching or consulting. Instead of selling your time, you sell access to a forum on your area of expertise. You try to answer as many of the community members' questions as you can in that Facebook group.
With this model, you'll charge a lower monthly fee to join the group than you would for one on one coaching. But, you make up for this by having a much more scalable business model.
Your members will need to understand that you won't be available on-demand or answer every question yourself.
12) Workshops / Group Coaching
Instead of working with clients individually, you could get them all together for a group call. Or even an in-person event.
By working with the clients in a group setting, you can lower the price on individuals while making more money overall.
And this doesn't have to be an online event (although it could be). My Mom takes in-person classes about how to plant flowers, and she loves it. Getting to interact with a group of like-minded people is a perk.
The only problem with in-person classes is it doesn't appropriately scale for a blog or YouTube channel that gets International traffic.
13) Graphic Design Templates
Something I would pay for is access to a bunch of really great Pinterest Pin templates made in Canva. Something where I can easily find a template that fits my blog post. Making Pinterest pins is a real pain-point for me, and I don't like doing it.
If you need ideas of the types of graphics that can be sold online head on over to CreativeMarket, where you'll see these types of things sold. Common items are fonts, wedding cards, brochures, cover letters, business cards, etc.
The list is long, and if you get creative, you can probably find a product match for your audience.
14) Creative Info Products
I listen to the Fantasy Footballers Podcast almost daily. It's a podcast dedicated to helping you win your fantasy football league.
Each year they sell their "Ultimate Draft Kit" for $30. It's a guide telling you how they've ranked every player and who the sleepers are etc.
Nobody else on the planet earth is selling an "Ultimate Draft Guide." It's an info product that they entirely made up to fit the content that they produce.
I'm not telling you to create the Ultimate Draft Kit. I'm telling you to look at the audience you've acquired, their interests, and ask yourself if it's possible to create a unique info product for this group.
15) Your Highest Converting Piece of Content
I wrote a blog post about the best private video hosting services for people looking to embed videos on their websites without using YouTube. That post makes me a lot of money because those companies have high-paying affiliate offers. But, things don't always have to be so 1:1.
For instance, I created a post about how to embed private YouTube videos on your website. That post gets two thousand visits per month. You wouldn't think a post about how to embed YouTube videos would be a big money-maker. But, enough people click-through to the private video hosting post that it makes good money too.
You can make content that points to your best money-making content. Be it an attractive affiliate offer a product you created from something on this list. That's an easy way to increase how much money your blog or YouTube channel makes.
16) Expert Analysis
New bloggers are willing to pay an expert blogger to look at their site and give feedback on how to improve.
Online daters are willing to pay an expert to look at their dating profile and to tell them how to get more dates.
The list goes on. If you're an expert in a field, you can sell your ability to look at somebody else's work and offer constructive criticism. They'll pay for it.
It's not 100% passive, but you don't exactly have to assess somebody's blog live either. You can look at it on your own time and send a report.
17) Software Presets
You don't need to be a software engineer to sell computer software. Here are a handful of software presets I've seen successfully sold online.
Excel spreadsheet templates with complex formulas built-in.
If you can demonstrably make somebody's life easier, they'll happily pay you $5 or $10 to have their problems go away.
Ask yourself if your niche has anything like this that would make your visitors' lives easier. If it does, it's probably an easy way to make a cheap product.
18) Printables
Printables are graphics that you can print at home. An excellent place to check out examples of printables that sell is Etsy.
Most blogging "gurus" will mention printables as the #1 thing to sell from your blog. I'm usually astounded when I read this because I can't imagine the demand for printables being very high in 2023. Plus, I hate paper, pens, printers, pretty much everything about printables.
That said, if you can make a little calendar that connects with your audience, you might do well. It is a digital product, after all. And if your printable flops, consider giving it away for free as a lead magnet to convince people to sign up for your email list.
19) Re-Sell Products / Retail Arbitrage
It is legal to re-sell items in the United States, according to the US Supreme Court. Meaning it's possible to go out to Walmart, buy an item, and then sell that item to another individual through your website.
If you're doing this as a business, there will be some challenges like scaling, keeping track of receipts, and limitations to advertising another company's brand. But, retail arbitrage is quite common on sites like Amazon or eBay, and there's a lot of information online about how to navigate these waters.
If you have a niche where you know they love a particular product, you're technically allowed to sell them that product if you go out and buy it first (though there are some rules around this, so be careful). You'd also have to mark these items up to make them profitable, so you might be better off buying wholesale and selling retail like a regular store would.
20) YouTube Live-Stream Super Chat Donations
I used to be really into the TV show Game of Thrones. In the crappy later seasons, I noticed YouTubers like Alt-Shift-X and Order of the Greenhand were doing live streams after the show.
Thousands of people were tuning in to these live streams. Much to my surprise, people were spending money hand over fist to get these YouTubers to answer their questions on the stream. Some people were just donating without even having their question answered.
These YouTubers were making a lot of money in a single evening. Some people were handing cash over $20 or $50 at a time. This went on for 3-4 hours straight. Check out the Super Chats in the upper-right hand corner; money keeps pouring in.
This won't work for all niches. But, it's something to think about if you have a passionate following. I've also seen this performed for YouTubers that cover individual sports teams. So maybe if you cover an NFL team, you do a YouTube live-stream during the NFL draft and collect donations.
The problem with this approach is that YouTube takes 30%.
21) Donations (Kofi, Buy Me a Coffee)
Sometimes you'll be browsing the web, and you might see a button like this pop up where a creator flat out asks for money for nothing.
I almost didn't include this as a money-making option because all the research I've done indicates that the conversion rate on donation buttons are low. You need to sell your audience to get anybody to hand you money for nothing.
That said, if 1 out of 1,000 people gave you $10, this is a money-making method on par with covering your site in ads.
We all know at least one site that has had success with this method. Wikipedia has a time each year where they ask for donations, and they're now making over $80 million dollars per year doing that.
I don't think this should be your monetization go-to. But, if you have an audience that appreciates you and you make a good pitch about why they should slip you a couple of bucks, it could work quite well.
22) Donations with Incentives (Patreon)
I was checking out this YouTube video about solar energy the other day, and at the end of it, the creator thanks his Patreon supporters. (Hit play, and it'll start at that section).
According to his Patreon, you need to donate $5 per month to get your name in the video. There are 100 names on the list. He was making over $500 per month from Patreon with only 10,000 subscribers.
Patreon has an interesting blog post about the amount of money you can expect to make on its platform. Long story short, if you have 30k YouTube subscribers, you'll probably make over $1,000/m from Patreon alone.
And this is a little bit different than "Buy Me a Coffee" in that you typically offer your Patreon subscribers some type of incentive for supporting you. So if you were a YouTube creator, maybe you'd let them vote on the topic of your next video or give them access to a private Facebook group.
23) Art
I am not an artist, so I went on a deep Google dive to see what artists were selling on their websites. I found this site that sells prints, this site that sells prints, basically a lot of sites that are selling prints.
So the question becomes, how do you get your art printed on a beautiful canvas and dropshipped. If you Google "Canvas print on demand," you'll find lots of options. One option I found that only costs about $20 per canvas after shipping is Printify.
So if you are an artist and have canvas art to sell as long as you can sell it for over $40, you should turn a profit. And if you are an actual artist, I'd hope you'd charge significantly more than that. Perhaps over $100 for a painting.
But, the cool thing about selling art on your website is that you don't need to be an artist to make money selling art. You can obtain commercial rights to selling photos through sites like Shutterstock. Or you can pay an artist to draw something for you then sell that. (Be careful to obtain commercial rights to sell the art as you can easily get sued over this).
24) Music
I don't know if blogs are a great place to promote your music. But, YouTube definitely is. I've discovered all sorts of people on YouTube doing covers that later turned the thing into a career. I was listening to Noah Guthrie on YouTube in 2014, and then, he was on Glee. His videos have millions of views (he's also supremely talented, that voice).
Most people will think of selling music on Spotify, iTunes/Apple Music, Tidal, Google Play, Amazon Music, TikTok, Tencent & more. You can sell on all of those platforms.
But, the advantage of selling music on your website is that these middlemen don't take a considerable cut or limit your prices. They also don't block you from getting your customer's email address.
25) Crafts (Think Etsy Products)
If you make something that you might otherwise be selling on Etsy, your website is a better place to sell it.
On your website, you have no competition. No competition means you can increase prices while still converting at a high rate. 3rd parties like Etsy will also get 0% of the sale price (instead of 8% + fees).
26) Films
If you're an indy filmmaker, your blog and YouTube channel is a pretty great place to promote your movie. Upload it to a platform like GumRoad and just include an advertisement with a link to it on your blog. Or put the link in the description of your YouTube videos (after you plug the movie, of course).
If you have 10,000 YouTube subscribers that love your content, they'll pay $10-$20 to watch your movie and support you. That's a full-time income for a couple of years there off of one film.
Kickstarter might be my favorite item on the list. I'd feel so inspired if you actually pull this off. If you have an idea of a product you'd like to build but don't have the funds, create a Kickstarter, then use your blog and YouTube channel to bring awareness to the Kickstarter.
This is a Jedi mind trick! You're getting your audience to fund the creation of a product that you can sell to your audience.
The only word of caution I have on this is you actually have to deliver a product when you create a Kickstarter. Keep that in mind.
28) In-Person Shows/Events
The Fantasy Footballers podcast does some amazing monetization work. They're a podcast about fantasy football, that decided to rent out venues and do their shows live. They sold out in multiples venues all across the country.
Is this real life? You'll need a massive audience to pull this off. But, if you have that audience, you could do this. It's not a terrible idea if you love traveling and people.
29) Data
Be careful about selling user data. With things like the CCPA and the GDPR coming about, that's a very dicey situation.
That said, there's so much data out there that I'd be very willing to pay for if somebody would collect it.
As a blogger, I've purchased a subscription to a hrefs to check keyword volume before.
As an Amazon seller, I bought a subscription to JungleScout to check the sales volume of Amazon products.
We all got hooked to Snapchat, Instagram, Facebook, and who knows what else because we wanted to know what our friends looked like at the beach.
The point is that you can make a lot of money selling data that is currently hard for people to obtain. And you don't need to build a sophisticated website either. If you have difficulty getting data compiled in a spreadsheet, I'm convinced that people would buy that data from you.
30) Your Other Platforms
Using your YouTube channel to promote your blog, podcast, or social media channels is an easy win. All of these platforms can help each other to grow.
Cross-promotion isn't so much a money-making scheme. It's just an excellent promotional tactic.
31) Your Email List
Don't sell your email list to a 3rd party; these days, that might get you in trouble. Instead, promote your email list to your visitors if you have nothing else to sell them. At least that way, you're gathering their contact info for when you do have something to ship them.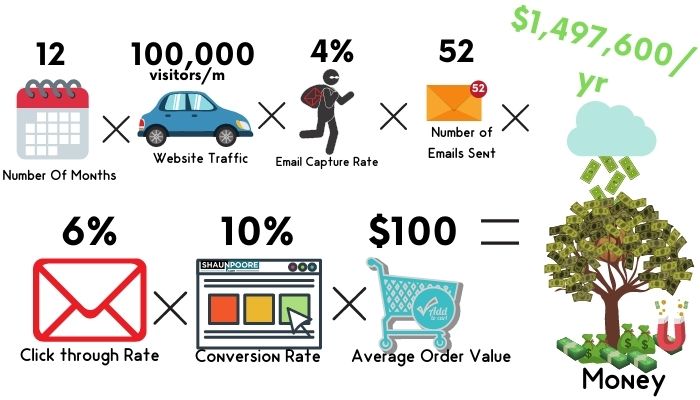 And email addresses are incredibly valuable. I wrote an entire blog post about exactly how much an email address is worth.
32) Physical Books
There's nothing like being an established author with a hard copy book to improve your reputation. We have it in our heads that authors with hard-copy books are incredibly legitimate. Books are great for personal branding.
Plus, if you're selling e-books, it's easy to produce a paperback. Amazon gives you the option to create a paperback copy of your book on-demand.
Amazon will take huge royalties from your book sales when you do this. But, if you charge more for the paperback, you can easily make up the difference. Simply sell your e-book for $10 and your paperback for $20.
33) AliExpress Dropshipping
I don't recommend anyone plan to dropship forever due to the horrendous shipping times and quality control problems. Over the long term, it will hurt your brand.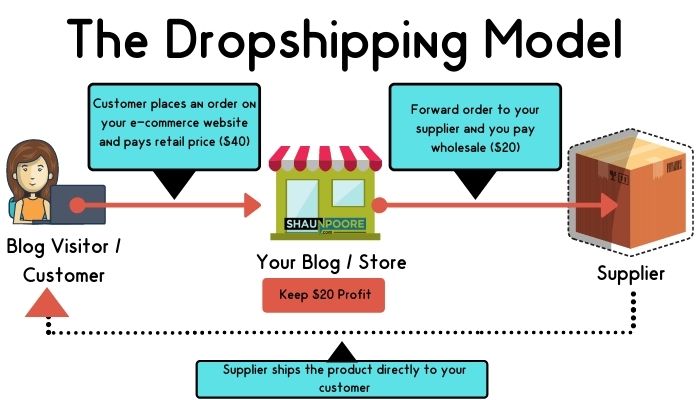 But, it's a great stepping stone for trying your hand at selling physical products. It doesn't have the risks that purchasing bulk inventory through Alibaba does. Or the risks of storing physical inventory in fulfillment centers.
It also has an enormous profit potential compared to Amazon affiliate sales. If somebody buys something on Amazon within 24 hours of clicking your link, you get 3%. Meaning if they buy a $100 item, you make $3.
But, when you're selling an item yourself, you have over 24 hours to make the sale and take home the margin. You could easily bring home a $3 profit on a $6 product, let alone a $100 item. The amount you make per sale will 10x overnight.
34) White Label Products Through Alibaba.com
I got my start in digital entrepreneurship by selling physical products sourced through Alibaba on Amazon.com. And I'm here to tell you that selling physical products is hard work.
You need to ship these widgets to fulfillment centers all over the world. There are strange tax implications. Upfront costs. One time a big batch of my inventory caught fire at a warehouse while in transit. Then there are returns etc. The list goes on and on.
All that said, if you were dropshipping an item successfully, you will notice that you could probably double your profits (or more) if you simply sourced the item yourself. It's going to be quite tempting to double your business overnight, all while having better quality control and faster shipping times.
How to source through Alibaba is too long for this post, so for more info, check out this blog post.
35) Your Entire Website
This blog is my baby, and I will never sell it. That said, there is a whole community over at EmpireFlippers or Flippa to help you sell your site for cash. There are a lot of people who build out Amazon affiliate sites and then flip them for cash.
I believe that websites tend to sell for 20-40x multiples of monthly revenue. Meaning if your website has averaged $2,000 per month over the last 12 months, you could sell it for $60,000 give or take.
I would never do it. And the reason why is that I believe that traffic is often undervalued as most websites only know how to monetize through ads or Amazon affiliate. The smart money is buying these sites then improving the monetization with a custom product.
There isn't as much of a precedent for selling your entire YouTube channel. Mainly because your audience is used to your face by now. They might unsubscribe the second a new person is running the channel.
But, it can be done. A popular YouTube channel could be worth a lot of money to a product creator that matches your audience.
However, you'd have to come up with a transition plan with the buyer. If I were buying a channel, I'd want the creator and I to film videos together. This way, we could complete the sale once the audience had gotten used to seeing my face.
37) Pixel Them for a Future Sale
You will likely need to put up a cookie consent banner with laws like the GDPR and CCPA getting passed.
But, let's say you sell cameras. You can pixel all blog visitors who read 100% of a camera article. Then you can turn around and serve them up ads on Facebook, Google, or other platforms.
These visitors are both familiar with you and in the market. They'll convert at a much higher rate than regular traffic. This will make your ad campaigns quite profitable.
38) Sell Your Users To Each Other
There is a blog called PhotoFeeler that has one of my favorite business models of all time. PhotoFeeler blogs about online dating, and created a service to get your online dating photos rated by other blog members. It's a very cool tool that lets you figure out which of your photos are getting the best response from the opposite gender.
They've effectively crowdsourced their visitors to be the engine that runs their business. I think it's a pretty creative business model.
Although I feel like women should rate me higher than a six given how awesome I am. They must not have read my blog; I'm clearly a 5-star man.
39) Meal Plans
There are websites out there like eMeals, PlateJoy, PurpleCarrot, and so many more that just sell meal plans. They also let you shop for your groceries through Amazon or other online grocery shopping alternatives.
The theme behind their meal plans vary. Some people are just looking to try something new and delicious. Some people are trying to eat an entirely plant-based diet. Some people are looking to lose weight or get healthy.
The point is, I don't want to think about what's for dinner tonight. If you have content that fits this niche, you could easily create a meal plan and sell it.
40) Your Stuff
I don't think selling your stuff online is a great business model because how much do you have to sell?
That said, if you have a large enough audience, you can sell pretty much anything you're looking to offload to that audience. So it is a great place to sell your stuff. And if you have an extreme amount of things to sell, it's not a terrible idea to use your online presence to do just that.
There is a website called ThisIsWhyImBroke with a monetization strategy that completely blew my mind. All they do is show pictures with their Amazon affiliate link pointing out absurd things you can buy on Amazon. That's it, that's the whole website. They just advertise stupid stuff like this.
And it's brilliant! Some things sold on Amazon are so absurd that you'll click them simply because you don't believe they're real. Even if you have no intention of buying, people shop so much on Amazon that you still earn commissions.
There's just one problem with this model. Amazon's affiliate commission is on a path towards 0.
Amazon's cookie also only lasts for 24 hours. However, you could probably still put a side ad on your website with something sensational pointing back to Amazon and make some money from it. Though in the future, I'm sure this won't remain viable.
42) Affiliate Products
The one flaw with affiliate marketing is that you lose control over your monetization if the affiliate program ever ends.
Affiliate marketing can be a fantastic way to earn income online, so it belongs on the list. That said, I recommend you build out a product because you don't want to get caught with your pants down when the affiliate program cuts you off.
43) Ads
Wait, ads aren't your product either!
A $15 RPM is a decent rate for ads. However, I usually advise against ads because if you take the time to build out your product, you should dominate a $15 RPM.
That said, ads belong on the list. They do have some benefits, including being an easy thing to sell to International traffic. You just have to think of ads as a monetization method instead of your only option.
If you're going to sell ad space on your blog, look to using premium ad networks like Ezoic, Adthrive, or Mediavine over Google Adsense. They will pay you several times as much for the same amount of space.
44) Sponsored Blog Posts
Sponsored blog posts are when a company pays you to put up content to help promote their products. There's a good article about how to get sponsored posts here.
I'll never put sponsored posts on any of my blogs.
Why? It's mostly financial. Your product making a $50-$100 RPM will make a sponsored post look like pennies. Even a good affiliate deal will crush the few hundred dollars you might get from a sponsored post (if you have a big audience).
I'm also careful about violating my reader's trust. And I've read some horror stories about sponsored posts. I don't find them worth the potential headaches.
45) Sponsored YouTube Videos
Sponsored YouTube videos are a slightly different story. You can sign up for websites like Famebit to get connected with brands that will pay you for doing a promotional read on your video.
A note on Famebit is that YouTube acquired them in 2016. Google is not exactly known for high payouts to creators. I'm skeptical of what that means for the service going forward.
That said, if you have a big audience on YouTube and you don't yet have your product to monetize it, this isn't a terrible option. You just have to do a read in your video and make decent money if you have a big engaged audience.
And "decent money" is tough to define. Branded content is still the wild west, and so it's hard to give an average RPM for sponsored videos. But, with higher subscriber counts and more engagement expect to make more money.
46) Food
I put food low on the list. I like to sell to an international audience, and I have some safety concerns about putting something that can spoil into the mail.
But, if you're in the food business and you've already figured out that part? I think it's a great idea.
I buy food online all the time. It's fantastic. Omaha Steaks, Blue Apron, Wisconsin Cheese Mart, American Tuna, the list goes on. I'm incredibly grateful that these services exist, and I'm often a repeat buyer on these services.
47) Coffee
There are countless coffee by mail services out there if you're somebody who can roast beans. Blue Bottle Coffee, Mistobox, Atlas Coffee Club. Seriously if you google coffee subscription service, you'll find a million choices.
When I was trying to figure out what types of coffees that I liked, these services were a godsend. I could get a considerable variety and make them with my Aeropress. They helped me try a lot of different coffees.
I found these services expensive, and now I get all my coffee from a local supplier. But, thanks to Covid, now I'm ordering that coffee online too.
48) Photography / Stock Photography
Most people selling photography online are targeting stock sites like Shutterstock or the million other similar sites out there. From what I've read, these don't pay all that well, and your website won't be useful for getting sales on those platforms.
My advice to photographers would be to treat this similar to selling art. Rather than selling the photos themselves, consider selling print-on-demand items with your photography on it. People may not be interested in buying your photo, but framed or on a piece of canvas art? Now we're talking.
49) Early Access To Content
Early content access is usually paired with Patreon. One of your Patreon benefits for signing up will be getting to see the content before anyone else does.
If you post time-sensitive material or just have a loyal following, it's a good excuse for people to donate to you through Patreon.
50) Exclusive Content
Exclusive content is also commonly paired with Patreon (although it doesn't have to be). Sometimes all it takes to create a product is to hold some of your free content back from publication. Your most loyal followers will be happy to pay a reasonable price to get access to this content.
You could also hold exclusive YouTube live streams where you do Q & A. This has the added benefit that your members and Super Chat you, and you can save the recording as part of your members-only content.
51) Workout Plans
I've bought workouts online before. Examples are yoga videos, Crossfit workouts, and workout apps.
I find myself wanting to follow a workout that changes every day but that I don't have to plan myself. And when I convince myself now is the time I'm finally going to get into shape, I'm more than willing to pay for these things.
You don't even have to film an entire workout. I'd be willing to buy a cheap plan from a trainer that I trust. Something I could follow that I didn't have to plan myself. If you're in the fitness niche, either selling a workout plan or workout video needs to be on your radar.
52) Lead Generation (Referral Marketing)
A while back, my car's passenger-side window broke, so I Googled to find where to fix it. I found AutoGlassNow.com and filled out a form to get a free quote. Suddenly I found myself inundated with calls from local people (who didn't work for AutoGlassNow) that were willing to come by and fix the window.
Referring me to a bunch of companies is called lead generation. It's similar to affiliate marketing. The difference is instead of shipping a product to the customer, you usually have to match that person up with a local business. The good news is that many local institutions are willing to pay quite a bit per lead.
Common industries that might pay for lead generation are banks, home mortgages, home maintenance, colleges, insurance, healthcare, and more.
But, think outside the box here. There are probably local businesses that would be happy to partner with you in exchange for leads.
53) White Label Software
White label software is a similar concept to contacting factories through Alibaba.com and selling those goods with your logo. But, only with computer software. This is a fantastic way to sell software even if you don't know how to code.
I put this towards the bottom of the list not because it's a bad idea, but because there aren't a ton of white label software products in existence. Typically if you want custom software, you're going to have to build it yourself. That said, this does exist to some extent, so it's very much worth checking if any software exists to fit your niche.
Here are some examples of software that you can white label.
The list goes on, but I will be honest these types of software are hard to find, and most don't look all that easy to pull off.
54) Sell Wholesale Items at Retail Prices
Selling wholesale items at retail is the same strategy that most brick and mortar retail stores have. Think Nordstrom, Macy's, JC Penny, etc. Pretty much anything that gets sold at a mall was bought wholesale and sold retail.
My favorite examples of online companies with this business model are Trunk Club, Stitch Fix and others. These companies will ship you a dozen pieces of clothing. You can try it on at home and ship back anything you don't want. They make money because the margins cover the shipping costs.
As a consumer, I like these services because I don't mind paying the full retail price in-exchange for never having to go to a store. I can maximize my laziness and still look good.
And clothing isn't the only for this business model. I once dreamed of selling variety packs of hot sauces online. We'd buy at wholesale prices and ship at retail.
The problem with this business model is "How do you obtain a brand name in bulk at wholesale prices?"
There is no definitive answer. These brands typically have distributors, and maybe even rules in place about to whom they'll sell. Or where the items can be sold and the sale price. Your best bet is to contact the manufacturer of what you want to sell for details.
If it weren't for that pesky detail this would be higher on the list.
55) Personalization Store
Personalization stores sell common items that you can get your names or pictures put on. My Mom loves puzzles, so I once had a puzzle made of a picture of all of us. It's a great gift idea.
Personalization stores should be much higher on the list. The reason is it's an item that few of us have, but we all want. It's perfect for getting sales from random traffic visiting your blog or YouTube Channel.
The problem? As of 2023, they're difficult to set up. There are not many great software options available. And sophisticated software is needed to make sure your customers can personalize everything without screwing up. On top of that, there aren't a lot of great drop-shipping options available either.
However, I LOVE this as a way to make money from your Internet traffic. If you can get past those two hurdles, you'll see high margins and high conversion rates. It's perfect for an online business.
Another option is that the Personalization Mall has an affiliate program that pays out 12% of sales. Compared to Amazon's 3% and 24-hour cookie, that's not a terrible deal.
56) Pornography
I know I've gone too far. And I'm sorry.
I wouldn't recommend selling porn because it'll likely get you banned from the best traffic generation methods. Google, YouTube, and Social Media aren't particularly porn-friendly. And no traffic means no business.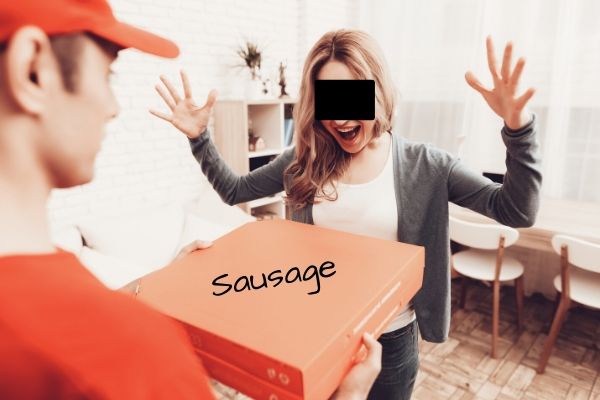 That said, porn was, is, and always will be one of the largest industries on the web. I wouldn't be doing my due diligence if I pretended it didn't exist for the article on every possible way to create a profitable Internet product.
It's honestly a pretty great business model if you can find traffic for it and get over the shame. Porn is a digital product you can sell for high margins. You can even turn it into a monthly subscription. Porn can scale well and make a lot of money if you have the traffic.
57) Multi-Level-Marketing Schemes
What's a multi-level marketing scheme? I'll let It's Always Sunny explain.
MLM's effectively make everybody at the top rich while all the bozo's at the bottom lose their shirts. And I want you to remember that I put this idea at the bottom of the list below pornography. I'm really not trying to hype this as THE go-to idea.
That said, if your blog or YouTube channel gets lots of traffic, you're in a unique position to sell anything. Whether that be the product itself or signing up more bozos to get screwed over.
Ethical? No, not really. Profitable? I'm actually not sure.
I didn't look into the commission structure of MLM's or try to make this work myself because there are better options that are more ethical than propagating this monstrosity.
That said, I believe you can find an edge in this market somewhere with the amount of traffic you have available to you. Or you can create your own unethical MLM where you're at the top of the pyramid.
Conclusion
I hope you don't feel overwhelmed by this giant list of product ideas. I put this list together to inspire you. You do have the power to create your own product and make bank online. I believe in you.