How To Watch Live NCAA Basketball Games in Virtual Reality
Shaun Poore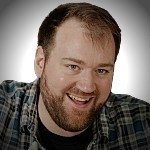 When you first watch a movie on a VR Big Screen, your first thought will likely be, "Holy cow, I wonder if I can watch college basketball like this?"
And the answer is Yes! It's possible to watch basketball games in VR; however, it's not necessarily easy. Here are the ways I've found to make it work.
Look For an Updated March Madness App in Quest Store
In 2019, a March Madness Oculus app was created to view the tournament in VR. There were a few problems with it however.
They charged people $10 to use it.
The quality was bad (lots of negative reviews)
They stopped updating the app and didn't bother showing the 2020/2021 tournament on it (at least 1 was due to the pandemic, maybe both).
However, I list this as a first option because as VR's popularity explodes over the next 5 years I guarantee college basketball games in VR will get a reboot. It might be using this app, a new updated app, or in something like Horizon Events app where you can watch live NBA games in 180°. I recommend searching Google for "Oculus college basketball app."
That said, as of 2021, I'm not aware of any great 360° viewing options. If you want a demo of what a basketball game looks like in VR, put on your headset and check out this YouTube video. It's a unique experience that's worth being on the lookout for.
Try The ESPN+ App
Oculus has an ESPN+ app (with decent ratings) that shows some live games. You'll need cable or a login to get access. You'll also need your preferred content to be playing on ESPN. But if you have all those things, it's a good option for watching the game on a big screen VR screen.
Try The DeoVR, Oculus, or Firefox VR Web Browser
Sometimes college basketball games are streamed online through CBS sports, Fox Sports, ESPN, etc. You can try using your VR headset's web browser to stream the game to your device.
The problem with this option is VR web browsers tend to have compatibility issues with various websites. That said, if it works with the website you need it to, that's an easy way to stream the game on a big virtual screen.
Also, DeoVR is the best VR web browser for watching videos. I'd start by downloading that browser and giving it a try.
Remote Desktop Into Your PC / Mac
I wrote an entire article about writing code while in VR by using the Immersed app to remote desktop into your computer.
The process for watching NCAA mens (or womens) basketball games is effectively the same. Any game you can pull up on your computer via a web browser becomes accessible in virtual reality (on as big a screen as you like). Heck, an app like Immersed even lets you invite friends to hang out in your private room.
Here's how that looked when I watched an NFL football game in VR.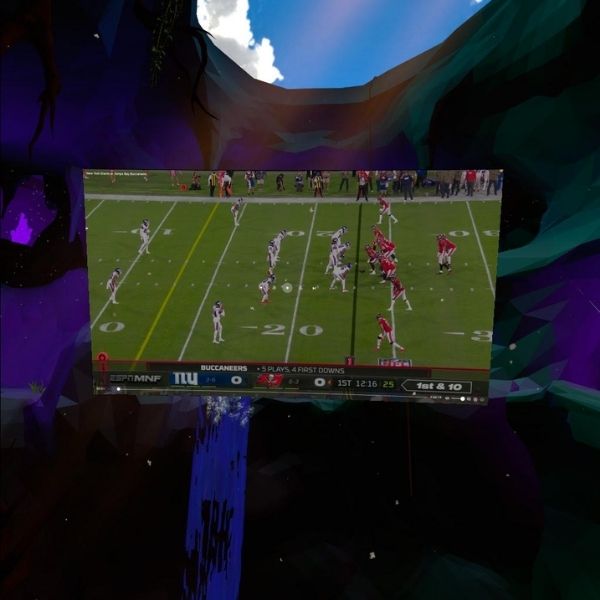 So the real question becomes, "how do you get access to NCAAB games on your computer." Here are a handful of options that will actually work (though most aren't free).
Websites that stream the games (CBS sports, Fox Sports, ESPN+, etc.)
YouTube TV (although you can only see local games).
Sling TV (You're also limited to local games).
It's not your own personal private sports bar just yet, but we're certainly getting there.
Conclusion: Is Watching College Basketball on The Quest 2 Worth It?
For me, the resolution on the Quest 2 isn't high enough for me to prefer watching a game in VR over a traditional television just yet. That said, higher resolution VR headsets are dropping in 2022, which promises to fix that problem.
That said, I do think the 180° viewing experience in something like the March Madness app (if they ever update it) is a unique viewing experience that's worth checking out.
So we're not quite there yet. That said, virtual reality will get crazy over the next 5 years. I do believe a day will come where many of us will prefer to watch sports in VR.