3 Best Plagiarism Detection Softwares (For Bloggers)
Shaun Poore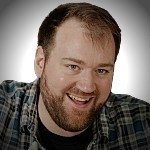 Bloggers frequently hire writers, and publish whatever they create. This works great, unless those writers are just copying what's on the first page of Google. Then you could get into serious trouble for copyright infringement.
Luckily, plagiarism detection software like Copyscape and Grammarly exist. But do they actually work? I created this post to find out.
I devised a test to see if this software could detect my new, old, popular, and unpopular posts. I then spun individual sentences to see if this software could detect plagiarism even with minor edits. Let's see how they did!
Did CopyScape Pass The Test?
I was shocked how well CopyScape performed. Here are two sentences from a blog post I wrote a couple months ago that I spun a little bit and Copyscape found on the first try.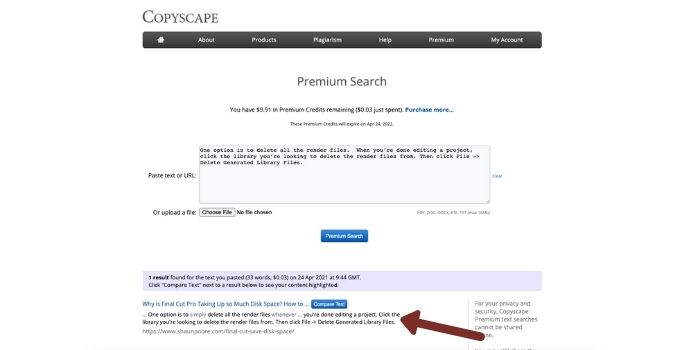 I found myself having to rewrite sentences in a major way to get it past Copyscape. If you copied even a single sentence from my blog, it found it. It took a major edit to the source text before CopyScape lost track of where it came from.
This was an extremely pleasant surprise. Going into this, I expected all of this software to fail to detect plagiarism on spun content and my low ranking blog posts.
Grammarly located all of my articles when I took at least a few sentences from my article (word-for-word) and pasted it into the editor. Even on my newest articles it located the plagiarized text.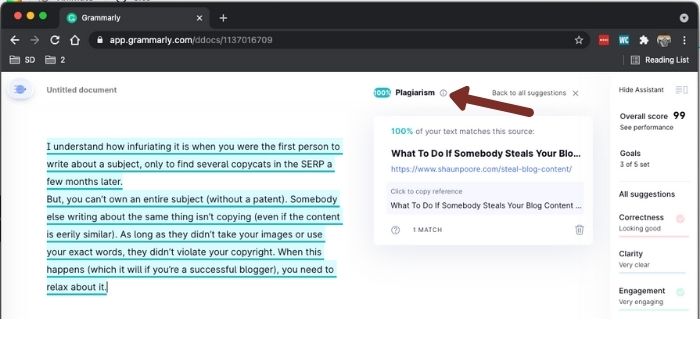 That said, it sometimes failed to detect plagiarism if I only copied a single sentence. And spun content, is where Grammarly really fell apart. If I made even minor edits to the text I could get it past Grammarly's plagiarism detector in a way that I couldn't with Copyscape.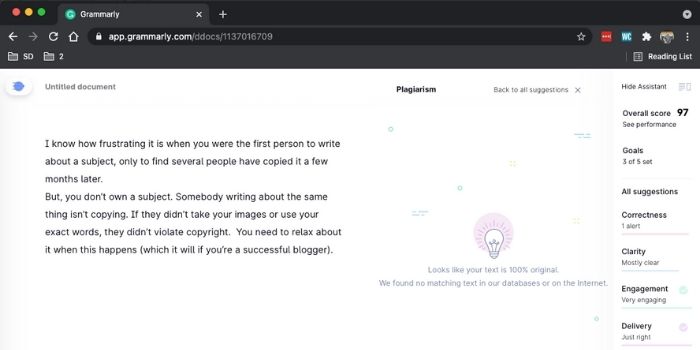 Overall, I'm glad this feature is built into Grammarly (assuming you've already paid for Grammarly premium). But, I wouldn't purchase Grammarly specifically for its plagiarism detection. It's clearly not at the same level that CopyScape is (as of this writing on April 24th, 2021). But, perhaps it will improve in the future.
Honorable Mention : QueText
There are a lot of plagiarism detectors out there. But, most cost money. With Copyscape having performed as it did, I didn't scour the Internet for a better paid option. However, I was looking for a free alternative, and I discovered QueText.
Overall, QueText performed similar to Grammarly premium's plagiarism detector. It was able to find exact copies of my text even on my newer posts. But, just like Grammarly, it fell apart if I made even minor edits to the text.
So QueText is nowhere near as good as CopyScape at detecting plagiarism, but it's also a free product that does reasonably well.
Conclusions
I went into this post expecting that plagiarism detectors would be completely useless. I expected that minor edits to the text would throw them off the scent entirely.
I was wrong. CopyScape is an excellent little piece of software. It's not perfect, but it's much better than I imagined it would be at this.
If I were hiring writers to post on this blog, I'd absolutely be running their work through CopyScape prior to publishing. If you have a writer that's stealing from other sources, they'd have to do some major spinning of every single sentence for CopyScape to miss it. I think that's definitely worth the price of several cents per check.
That said, I still believe you should largely ignore it if somebody steals your blog content. So I won't be running constant checks to see if somebody's copying my stuff.