How To Watch Live Sports In Virtual Reality
Shaun Poore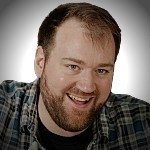 I've already written entire posts on how to watch the following sports in VR. Click on them for a detailed guide.
If the league you're looking for isn't included in that list, I still have generic advice on how to watch live sports in virtual reality.
Look for a league Specific Oculus Quest App
Watching a game in 360 degrees is a vastly different experience than watching in 2D. So the first thing I do is look for an app made exclusively for the sport I'm trying to find.
The problem is this is rare as of early 2022. The summer olympics had the NBC olympics VR app, MLB the MLB.TV VR app, NBA the Horizon Venues app (for select games). And that was about it.
That said, I expect 360° VR content to explode over the next 5 years. So if you're reading this well into the future definitely be on the lookout for new apps hosting 180° or 360° sports content.
Try The DeoVR, Oculus, or Firefox VR Web Browser (Paired With Your Favorite Streaming Service)
Virtual Reality headsets will come with built in web browsers or you can download them as an app (DeoVR is the best VR web browser for videos).
The problem with trying to use a VR web-browser is that they sometimes have compatibility issues with various websites. For instance, when I was trying to use the Sunday Ticket website to stream NFL content this way, Sunday ticket flat out blocked the use of this web browser.
That said, if you wanted to watch the game through the web browser using YouTube TV, MLB.TV, etc. It might work and would be an easy way to stream the game (or multiple games at once). You just have to figure out where to watch the game online and replicate it in the virtual web browser.
Remote Desktop Into Your PC / Mac
I wrote an entire article about writing code while in VR by using the Immersed app to remote desktop into your computer.
This is oftentimes my favorite way to watch sports using a VR headset. Because as long as I can figure out how to get the game onto my computer, it's guaranteed to work in VR. And you can easily open as many tabs as you want, invite your friends to watch with you, and control what virtual world you feel like watching in today.
Here's how that looked when I watched an NFL football game in VR.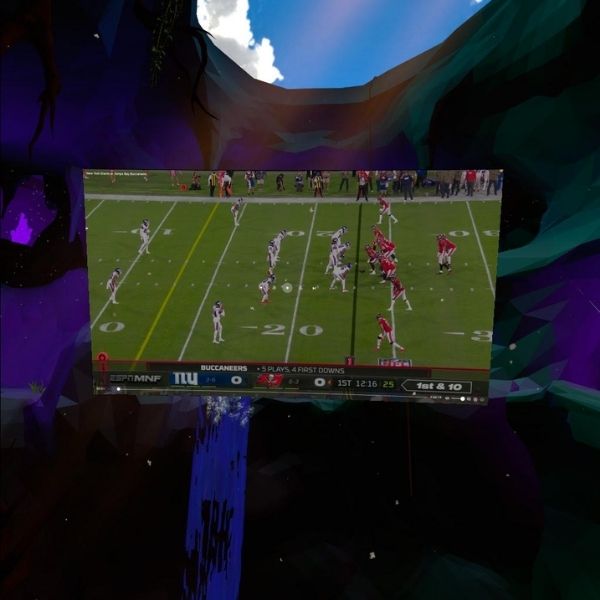 Much like the web browser option all you've got to do is figure out how to watch your preferred sport online and you're good to go. Only this time you're guaranteed not to have any compatibility issues, can use a VPN if needed, etc.
Try The ESPN+ App
Oculus has an ESPN+ app (with decent ratings) that shows some live games. You'll need cable or a login to get access. You'll also need your preferred content to be playing on ESPN. But if you have all those things, it's a good option for watching the game on a big screen VR screen.
Conclusion: Is Watching Sports on The Quest 2 Worth It?
For me, the resolution on the Quest 2 isn't high enough for me to prefer watching a game in VR over a traditional television just yet. That said, higher resolution VR headsets are dropping in 2022, which promises to fix that problem.
That said, I do think a 180° or 360° viewing experience can be pretty amazing and will definitely catch on in the future. It also suffers from some resolution problems at the moment, but that should also clear up over the next few years.
I also think the ability to remote desktop to your PC and share that experience with your friends is pretty amazing. You'd need an incredible Internet connection to pull that off but we effectively already have the technology for you to host your own private virtual sports bar with several games playing at once.
So we're not quite there yet. That said, virtual reality will get crazy over the next 5 years. I do believe a day will come where many of us will prefer to watch sports in VR. Hope this helped you out!